This post showcases 2 free Facebook connectors for Data Studio, so you can easily gather all the Facebook campaign data on a dashboard without paying any subscription.
Facebook data is crucial for any media buying decision. As marketers, we invest time and resources in order to gather all the important info in one place and closely monitor the overall performance of our ads.
And how we can do this? Through Google Data Studio. However, Google Data Studio requires external connectors in order to import data from nonorganic (not built by Google) properties such as Facebook and Instagram ads and that means additional monthly marketing costs.
In this post, we present two options on how to connect Facebook with Data Studio, free of cost.
Check out our data studio gallery and upgrade your digital reporting in minutes.

Why you should connect Facebook Ads to Data Studio?
Connecting Facebook Ads to Looker Studio (previously Data Studio) provides a number of benefits to marketers and businesses. Here are some of the reasons why you should consider connecting Facebook Ads to Looker Studio:
Consolidate your marketing data: By connecting Facebook Ads to Looker Studio, you can consolidate your advertising data from multiple platforms into a single location. For instance, you can include Facebook Ads and Google Ads data under the same report, making it easier for you to track your advertising campaigns and get a comprehensive view of your marketing performance.
Analyze data in real-time: Looker Studio allows you to analyze data in almost real-time, which means you can get up-to-date information on how your advertising campaigns are performing. This can help you make better decisions on how to optimize your marketing spend based on the campaigns' results.
Collaborate with your marketing team: Looker Studio allows multiple users to access and collaborate on reports. This means you can share reports with your colleagues, stakeholders, or clients, and work together to optimize your advertising campaigns.
Overall, connecting Facebook Ads to Data Studio can provide businesses with a centralized solution for analyzing their advertising data, optimizing their campaigns, and collaborating with team members.
Adveronix (Free Google Sheets add-on)
Adveronix is a Google Sheets add-on that enables you to pull data from your Facebook ads account or your Facebook page (and other data sources) and automate your reports with Google Looker Studio. Additionally, you can easily save your own custom reports on a Google Spreadsheet and then schedule these reports to run automatically.
7 steps to connect Facebook ads with Google Data Studio [Adveronix]
Install Adveronix on your account.
Create a new spreadsheet and launch Adveronix. Add new tabs for each custom report you want to build and name them accordingly.
Log in with your Facebook Account. For this process, you will be redirected to Facebook in order to authenticate your account. Make sure that your FB account has access to a Facebook Ads Manager.
Create the reports. From the configuration table, select your Ad Account (you can select up to 2 Ad Accounts) and then add the metrics and dimensions for your reports. You can choose from a wide variety of metrics such as Impressions, Amount Spent, Link Clicks, Purchases, and dimensions such as Day, Campaign Name, Country, Age, and Gender.
Save and schedule the reports (for instance hourly, daily, weekly, monthly – how often to run your reports)
Add the new data sources on Data Studio. Select Google Sheets as Data Studio connector, and then the Facebook Ads file you have already created.
Add new custom metrics (if any). Regarding metrics, it would be better to create the ratios such as CTR, CPC on Data Studio for higher accuracy.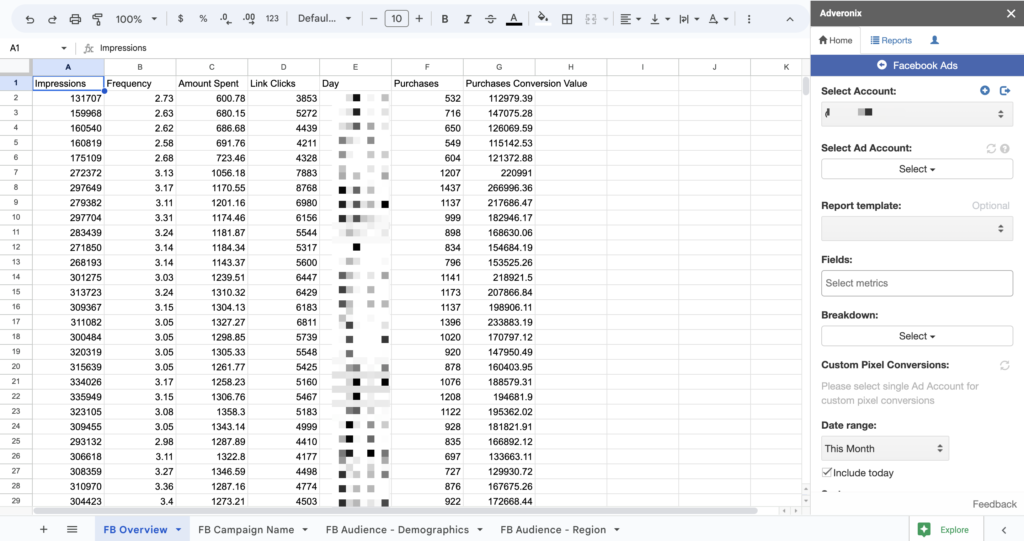 Some limitations to consider for this workaround is your extra effort for the setup and maintenance of the report. As you imagine, it might needs some time and effort from your side to build the reports from scratch. In addition, maintenance issues might come up over time, so you should fix them in order your Data Studio report to display the data properly. Last but not least your reports cannot pull the data in real time, as you can schedule reports to run them every hour.
On the other side, this workaround is free of charge, without increasing your monthly fees for marketing connectors.
Gladior (Free Data Studio Connector)
The second way to connect your Facebook Ads data with Data Studio for free is by using the Gladior Data Studio Connector. Gladior provides a connector that enables you to easily import and present your Facebook ads data on Data Studio.

4 steps to connect Facebook with Data Studio [Gladior]
Open your Data Studio and go to Data Source.
Create a new Data Source and select "Gladio Facebook Ads" as the connector.
Log in with your Facebook Account. Make sure that your FB account has access to a Facebook Ads Manager.
Select the dimensions and metrics you want to apply to your report.
The process for connecting Facebook Ads with Data Studio using Gladior is similar to using any paid Facebook Ads connector. Gladior's connector provides real-time data and is easy to use.

Regarding this free connector, you should have in mind some issues that you might face while building a Data Studio report. The first one is related with the slow response time when fetching your data (it might take up to 1-2 minutes). Additionally, the connector doesn't work well with some specific graphs (time charts). However you can combine both solutions, Adveronix for charts and Arbona for tables, in order to create your own facebook ads report without any additional fees.
How to use a ready-to-use Data Studio Template for Facebook Ads
We know the importance of reporting the right data and how it would take to design from scratch a comprehensive report. For this reason, we created a Facebook Ads Data Studio Template using one of the above solutions that don't require any other subscription.
| | |
| --- | --- |
| Data Source | Facebook Ads |
| Dashboard Type | Multi Page (4 Pages) |
| Set Up | Difficult |
| Audience | Agency, Digital Marketeer, Ecommerce Manager, PPC Specialist |
Once you purchase this dashboard you will be able to sync your Facebook ads data with the template and track the performance of your paid activities across Facebook, Instagram, and Messenger. Additionally, by using this report, you can:
✓ report the Facebook KPIs for Ads Visibility, Conversion, Acquisition, and Cost
✓ measure the engagement across platforms and your top-performing campaigns
✓ track the behavior of your audience
✓ get a high-level monthly snapshot (over time)
You can check our dashboard which includes all the above information with the below link. Have in mind that this report comes with step-by-step instructions and video tutorials for the technical setup.