Did you know that a typical business gets about 59 actions from its GMB listing?
Google My Business allows local businesses to increase their visibility. However, to capture valuable, organic traffic analyzing your Google My Business analytics is essential. These insights can help you gain in-depth data about how people find your business listing online and offer input about customer action.
But collecting, analyzing, and interpreting data can be a daunting prospect. To minimize your struggle below is a detailed guide on how to take advantage of Google My Business insights. Consider these tips:

1. Know How Customers Search For Your Business
Understanding how potential clients search for your business is vital. It can help you to make better marketing decisions. This data is usually split into discovery searches and direct searches.
Direct searches give insights on users who directly searched your business name while discovery searches are when users use generic queries like café near me.
To view these metrics, you can use our Google My Business Template which can help you monitor your local business listing.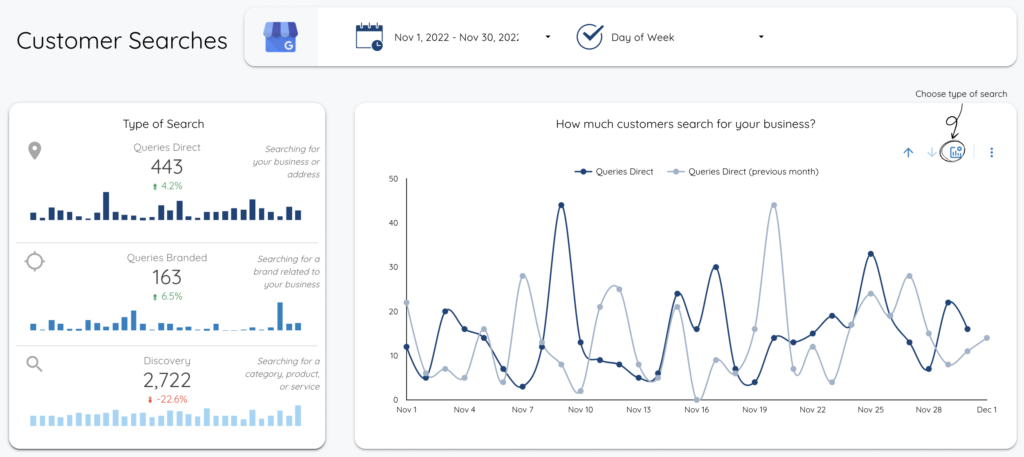 2. Identify Queries Used to Find Your Business
Google My Business Insights is a great tool that allows you to know how web visitors are finding your Google Business profile. It shows which search terms and keywords users are keying in to locate your business.
Dissecting your users' search queries helps you confirm that you're using relevant keywords across your GBP posts, web pages, and blogs. You can also help you know if you are answering customer questions effectively. In case you aren't, you can make the necessary changes.
To access this data, open your Google My Business account, and choose the "Performance" tab. Once the page opens, you will see the performance reports at the top.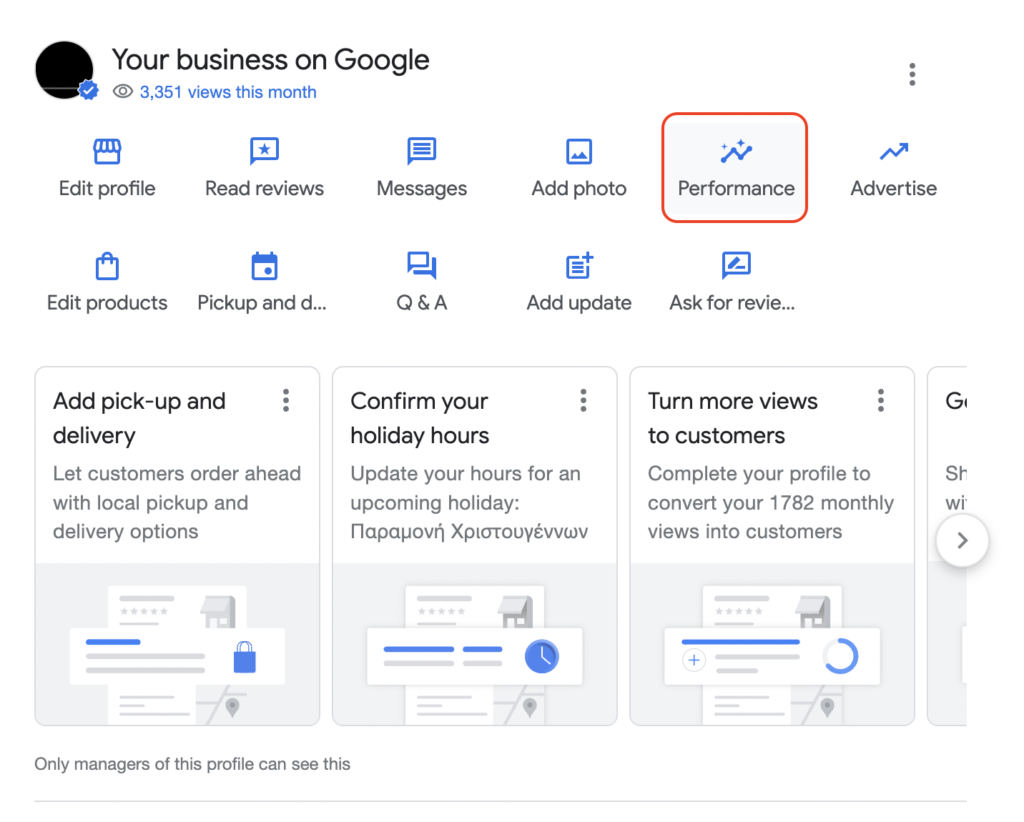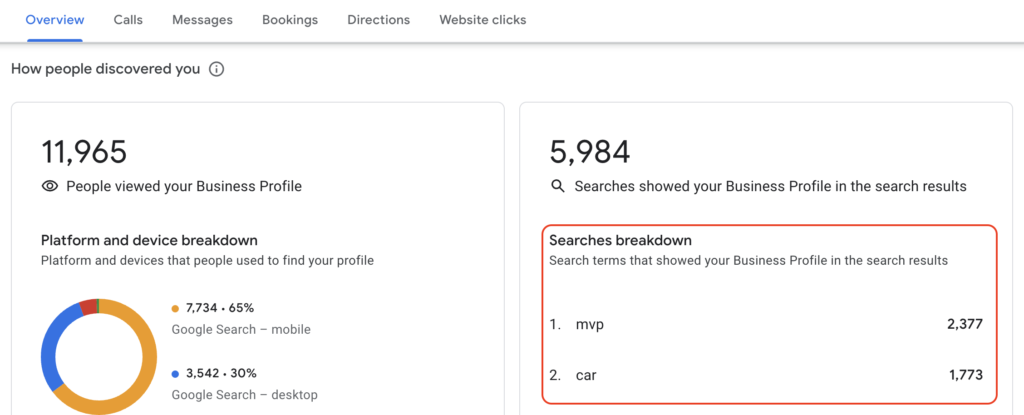 3. Discover Where Customers View Your Business on Google
Whether it's Google Search or Google Maps, knowing which platform is driving traffic to your business can give you an understanding of the intention of your potential customers. It can also show you how well your mobile optimization is going, especially if you run a high-traffic business that expects a lot of Maps traffic like a coffee shop or restaurant.
For instance, a large percentage of views from Google Maps in GMB Insights can indicate that more search users view your listing on a mobile device. To confirm this information, you can check our GMB Overview section of our report.

4. Analyze Directions Requests
You can use this Google My Business insight to better understand where traffic is coming from. Once direction requests have been done, you'll see a directions heat map that shows the location of your search users.
This heat map also indicates where potential customers travel from. You can use this zip code information to fine-tune your marketing. For example, it can help with your geo-targeting social media promotions.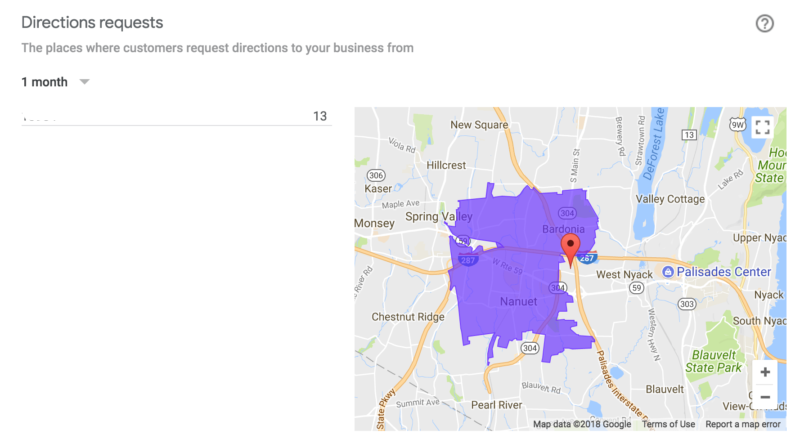 5. Look at Phone Call Data
Phone Calls on the Insights page show when and how often customers call your business through your Google Business Profile. You can measure by day of the week. This data can help you gauge your most active call day or season to help you schedule new posts.
In case you generate the least amount of calls, it can show you where you can improve.
To get better data on your phone calls, attach a UTM tag to your phone number via call tracking software. This will only work if you have a dedicated phone number for your Google Business Profile.
6. Keep an Eye on Messages to Your Business
Users can send your business a message directly from the search results through your GMB Profile. Review these messages for common questions and add them to your listing through the question and answer section of your profile.
7. Track Bookings Made
If you have linked an appointment app with your free business listing online, local customers can make a booking or reservation via your GMB Profile. GMB insights can help you investigate trends. You can use it to monitor the most popular times and days to make bookings.
With this information, you can then schedule more posts to capture your target audience's attention around those times. You can also see if bookings are increasing or declining over time.
In case your bookings are declining, evaluate whether your keywords are still relevant. Reviewing your keyword selections and making adjustments can help you rank higher on the search engine.
8. Monitor the Clicks to Your Website
These Google Business Profile metrics help you determine if your local SEO plan is performing well. A decrease in clicks shows that your business's local SEO strategy is ineffective and needs refining. When the Google My Business report shows an increase in clicks, it means that your target audience is looking for more information on your website about your business.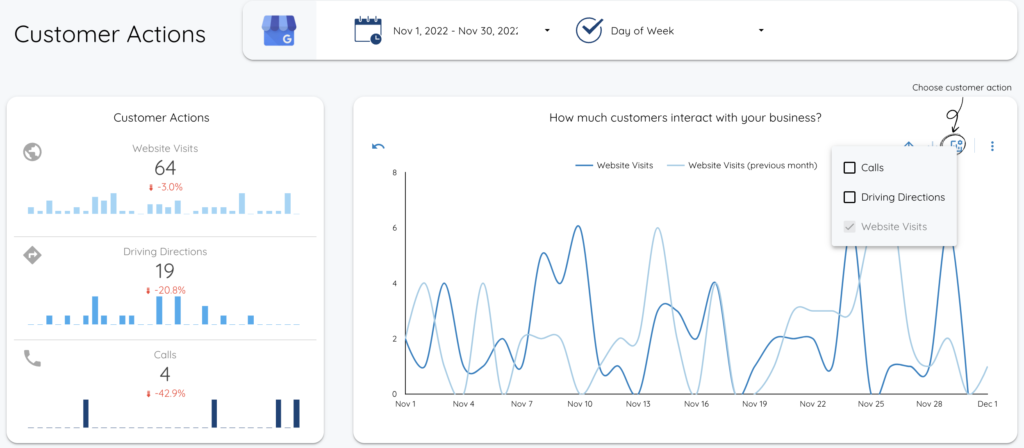 9. Check Customer Reviews
GBP insights also offer customer reviews for your business. These metrics can help you understand how satisfied your customers are with your services/products. Apart from the detailed feedback that you can receive from your customers, you can monitor the average rating of your business against the competition.
Additionally, you can identify which of your products/services are performing well (close to your customers' expectations).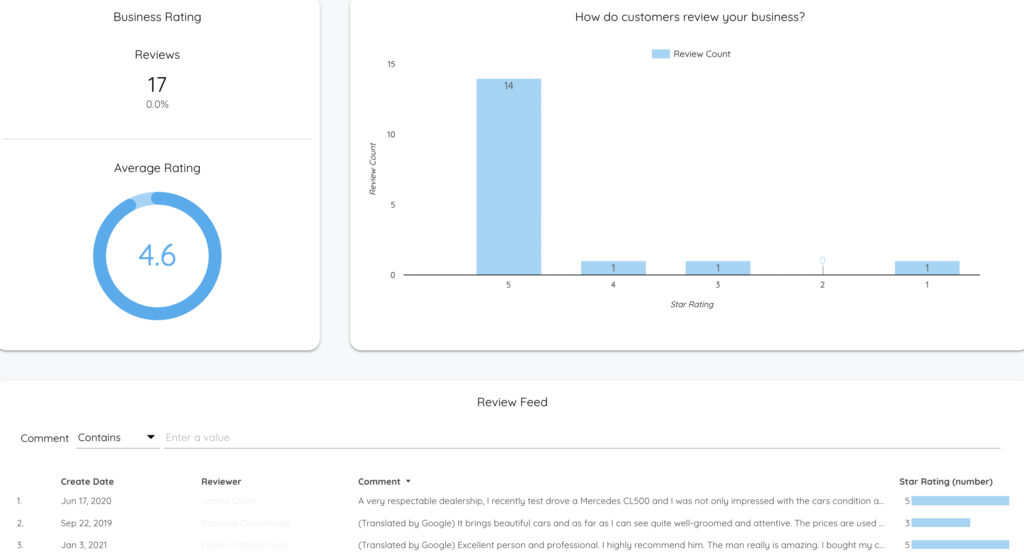 10. Stay Up to Date with Customer Actions
If you don't know where to focus your GMB efforts, the customer action data can help you determine what to do next. It can help you know the types of actions a searcher takes on your listing like calling, requesting directions, or visiting your website.
When handling your profile directly in Search, the GMB Performance Report highlights each type of action in its own report. This way you can see data on calls, bookings, messages, directions, and website clicks individually.

Grow Your Business with Actionable Google My Business Insights
Thanks to Google My Business analytics, you have access to everything you need to know about your website visitors.
Look no further than Data Bloo for credible Google My Business insights. We offer a user-friendly dashboard that helps businesses make the most of their GMB data. Check our demo below and pull valuable insights into the organic growth and local search ranking.