Marketing funnel templates for Google Data Studio can make things easier for you. A marketing funnel can provide essential insight into the leads and buyers' responses. It has become critical for companies to monitor their investments, consumer behaviors, and which channels are performing better.
That is where the marketing funnel template for Google Data Studio comes in. A marketing funnel is an effective way to maintain visibility on the changing data trends. If you are wondering how to create a marketing funnel using Google Data Studio, read on as we discuss how to do it.

What is a Marketing Funnel Template?
A marketing funnel is used to represent the journey of potential customers from visit until purchase or goal completion (any desired action for your online business). It's widest at the top and narrows down at the bottom. This visual representation provides key insight into customer behavior and shows in which step the customers drop out of the funnel.
Creating a marketing funnel report in Google Data Studio enables you to combine data from different sources into one platform. For instance, you can blend data from your ads to website visits and back-end purchases in just one funnel. Then you can design an interactive and comprehensive data visualization that can be easily shared with all the stakeholders involved.
By using a ready-to-use template for marketing funnels, you can easily visualize data with Google Data Studio. A good marketing funnel template would not only be attractive, but it should also reflect your company's success story through data.
3 Types of Marketing Funnel Templates
There are several types of funnel templates. Let's take a look at the types:
A website funnel is used to represent the trends of the number of people visiting a website, and the number of visitors who actually buy the product or service from this website. A website funnel template can be used by e-commerce and other online retail businesses.
Marketing Funnel Template:
The marketing funnel template is used to show the changing trends between paid ad clicks and the leads generated. This funnel shows how many people visited your website after clicking on a paid ad, and among the visitors how many became customers or leads.
A sales funnel template is used to represent the journey of a customer from becoming aware of the product or service and actually purchasing it. It can be used to check the sales of SaaS, real estate, and other enterprises.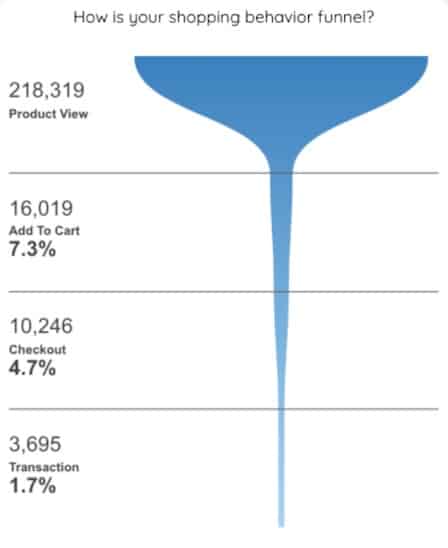 Difference between Marketing and Sales Funnels
There is a very slight difference between the three types of funnels we discussed above. The most commonly used funnels are the marketing funnel and sales funnel. Both tell a similar story – the steps a customer goes through from the perspective of a buyer.
It can be hard to differentiate between the two funnels as both are used in marketing and analysis of customer behavior.
Marketing is used to generate awareness about the product and create its demand among the customers. So it can be said that the bottom of the marketing funnel marks the top of the sales funnel.
Sales funnels focus more on conversion as an end goal.
How to Create A Marketing Funnel Template on Google Data Studio
Now that you know what a marketing funnel is, let us guide you through a step-by-step process on how to create a marketing funnel report in Google Data Studio. To create a funnel, the first thing you need to do is decide which data sources you want to use.
Most conversion funnel templates begin with Product Page Viewed or Ads Awareness and end at Conversion or Transaction. You can choose which parts of the funnel you want to use to monitor your data, and then connect the Google Studio template with the corresponding data sources such as Google Ads and Google Analytics.
Here is how you can use the Google Data Studio to build a marketing funnel with different data sources:
Step 1: Add your Data Sources to your report
To connect your marketing funnel template with data courses, you need to first add your data sources to Data Studio. Below you will find some data connectors you can for your funnel:
Google Analytics (to present your website and ecommerce data)

Pro Tip: You can use Google Spreadsheets along with a third-party add-on, called Funnelizer. It can help you pull your Universal Analytics data and customize your funnel rules in a few steps wihtout any additional tags.

Google Ads (to connect your ads data with the commercial activity)
Google Search Console (to incorporate the organic search demand in your funnel)
Back-end Data Source such as Shopify and Woocommerce (to combine your actual sales data with the rest data source).
Step 2: Choose Dimensions and Metrics
Below you will find some of the indicative metrics you can use for each type of funnel:
Website Funnel Template for Lead Generation: Sessions, Product Views, Form Submissions
Marketing Funnel Template: Organic Search or Ads Impressions, Organic Search or Ads Clicks , Landing Page Views, Free Trials
Sales Funnel Template: Product Clicks, Product Views, Add to Cart, Checkouts, Transactions
There are no restrictions on which dimensions you need to use. If you are using the Spreadsheet to make your marketing funnel on Data Studio, it is entirely up to you to decide which dimensions you can use in your report. The most commonly used dimensions to analyze your funnel are time (day / week / month) country, device & browser, and marketing channel.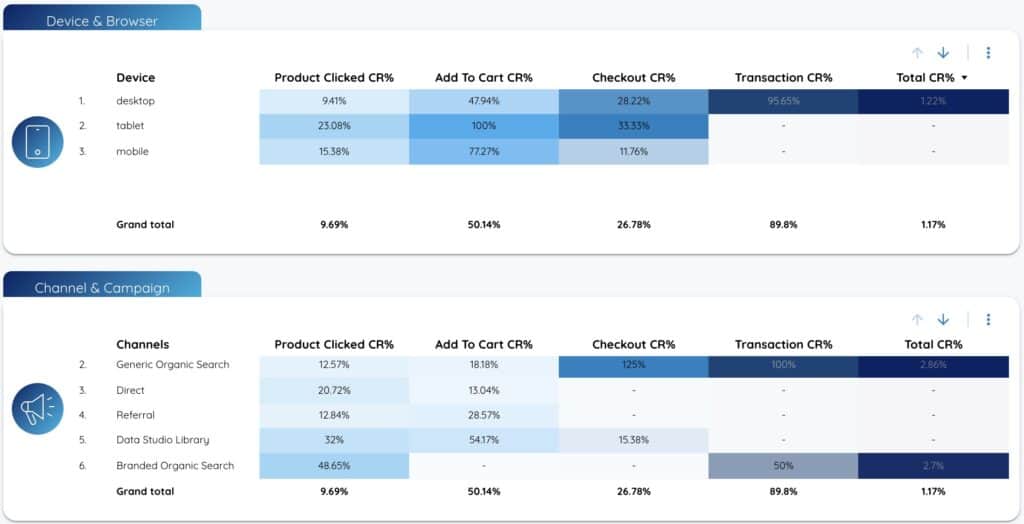 Step 3: Create new metrics on Data Studio:
If you want, you can also add new metrics such as ratios to your report in Data Studio, apart from the metrics provided in your Data Source. It is quite easy to do if you are working with a ready-to-use template. You can also use the calculated fields of Data Studio to make advanced calculations for your analysis.
Step 4: Use a community visualization funnel
All of these funnels can be created with custom visualizations developed by the Data Studio community. The available community visualizations in Data Studio are the following. However, you can use some other funnels by adding the manifest URL.
How to Optimize Your Marketing Funnel?
There are several ways you can optimize your marketing funnel. Here are some ways you can improve your performance and make more sales:
Create brand awareness using the same brand messages across the touchpoints of your funnel.
Use your SEO and SEM strategy to generate more new leads with optimize landing pages.
Use newsletters to increase customer interaction with your products and services.
Product reviews, testimonials, and free trials can help you build trust.
Discounts and limited time offers can help you increase the conversion rates lower in funnel.
Where to Find Ready-to-Use Marketing Funnel Templates?
Data Bloo offers ready-to-use marketing funnel templates such as Conversion Funnel Template, GA4 Template, and Website Master Template that you can use to visualize your data. You can use these templates to make a stunning report in a few easy steps and then use various charts and funnels to monitor your data.
Our marketing templates are not only comprehensive, but they can also make your reports visually pleasing. You can build a marketing funnel on Google Data Studio using our templates in a few easy steps.