Did you know that there are almost 10 billion searches on Google every day?
As a business, it would be great to harness this kind of data and use it to your advantage. The good news is that there's modern technology that can allow you to do this and more.
Looker Studio is an online tool Google launched as a way for businesses to turn their raw data into useful analytics and SEO client dashboards. There are even options to customize the results according to your specific needs.
Keep reading to learn about the ultimate solution for digital agencies.

Understanding the Importance of Data in SEO
Without data, there's no denying that your search engine optimization strategy won't reach its full potential. Data is the main ingredient that can not only ensure success but can even give you better results than you initially anticipated.
For instance, you can use your data to generate SEO reports that help you increase organic traffic. That way, you can get more clicks and start turning this traffic into solid leads.
Aside from this, there's also the possibility of improving the SEO on each page of your website. This is also true of the content on your site, such as the articles that you post on your blog. Without insights from your organic content, you can't expect to attract more visitors to your site.
You'll also find that implementing SEO dashboards can help with your backlinking strategy. Backlinking is as important as using the most strategic keywords in a given post or page.
You'll be glad to know that there are many common SEO data sources available. These are crucial when formulating a successful search engine optimization strategy.
Some of these include Google Search Console, Ahrefs, and SEMrush. You can't forget about Google My Business. This is especially important for those who are launching local SEO strategy campaigns.
SEO KPIs for Implementing Client Dashboards

While there is a wide range of SEO client dashboards on the market, some are much more effective and user-friendly than others. One of the most essential elements involves the types of KPIs that are included in the dashboard. In order to have a complete overview of your SEO performance it is crusial to track the right SEO KPIs such as:
Organic search volume
Organic search traffic
Average position
Unique branded keywords
Unique generic keywords
Unique landing pages
Domain authority
Number of backlinks
Reviews for local business
Customer actions on the business listing (call, website visit, get directions)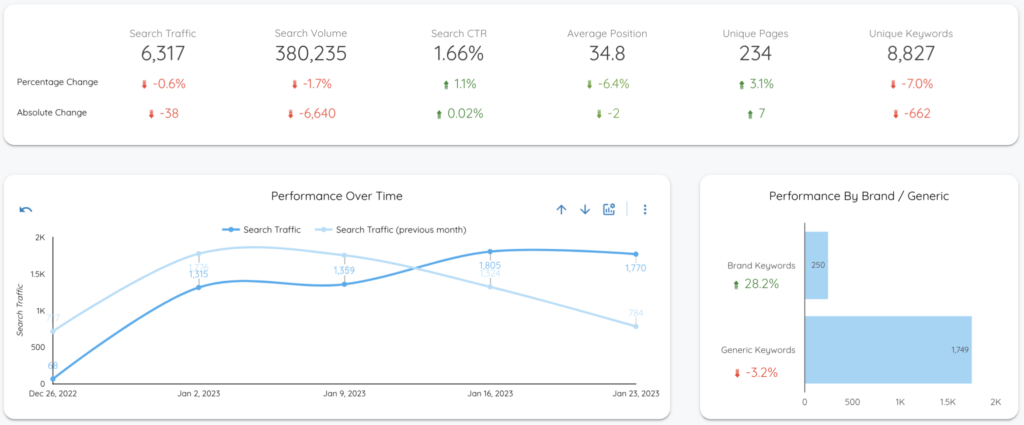 Analyzing the results of SEO traffic offers valuable insights into your searchers. For instance, you can gain a deeper understanding of your searchers based on the keywords they use. Current customers might search using brand-related keywords, while potential visitors might use informational keywords in order to answer generalized questions (how, what, which, and when). Keep in mind that a brand keyword relates to a specific brand name, such as "Adidas sneakers." Generic keywords are anything that isn't specific, such as "coolest hi-top sneakers." In almost all cases, a business's products and services will almost always be generic.
SEO client reports that include your top landing pages can also let you know whether specific strategies are working well enough. This is true whether you're offering some free resources or inviting visitors to sign up for one of your events.
Three Examples of SEO Client Dashboard Use
Instead of talking about SEO reporting dashboards in the abstract, it often helps to give real-world examples of how someone can use the software to their advantage.
Keyword Research with Search Console Report
Data Bloo's keyword analysis template is a perfect example of what this kind of page should offer clients. It'll let you know what kind of SEO traffic you've been getting and where it's coming from. This information will go a long way toward demonstrating what strategies are working most.
It can also let you know what content strategies need to be fine-tuned or changed altogether.
Instead of you having to guess, it'll also let you know about the top-performing keywords. You can even see the country of origin involved. Aside from all this valuable info, you can also learn about the brand and generic keywords, landing pages, and average position.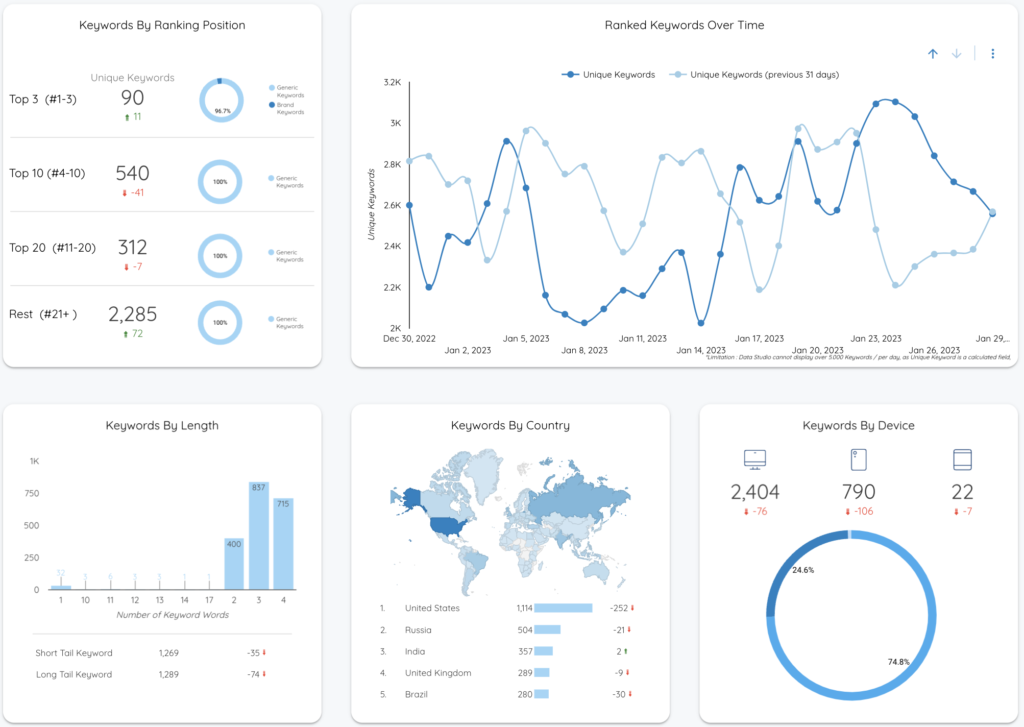 Backlinks with Ahrefs Report
Ahrefs Looker Studio template is another example of what you should be looking for in your SEO client reports. This will give you everything you need to know about backlinks, authority domains, and much more. It can let you know about backlink attributes, including dofollow, nofollow, and sponsored and backlink types such as test and image.
There's no question that your website will end up being much more optimized, once you learn more about the domain authority of each of your pages. All this is thanks to the analytics offered by that easy-to-use template.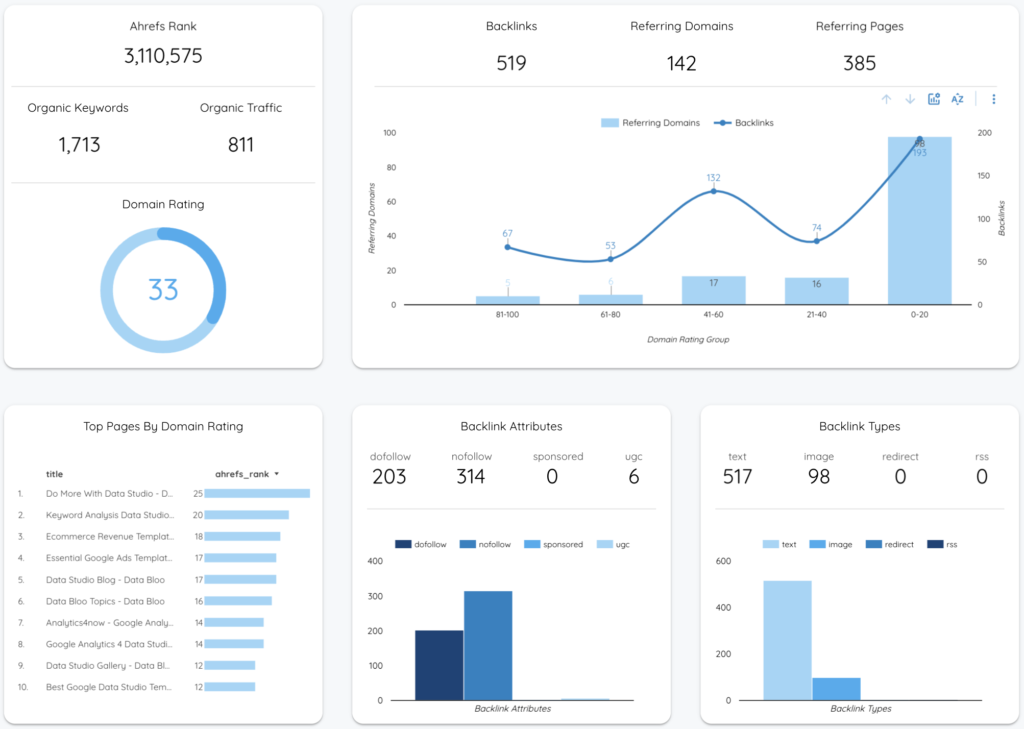 Local SEO with GMB Report
The final example involves Google My Business report. With this five-section report, you can become a master of local SEO and learn everything you need to know about your business listing on Google. Apart from the overall performance of your listing, you can also get a wealth of knowledge relating to customer searches, customer actions, and your business' reviews.
Since word of mouth is just as important in the digital world, you should stay on top of these reviews and engage more with your customers even if it's to solve an issue. Don't forget to thank your customers for positive reviews as well.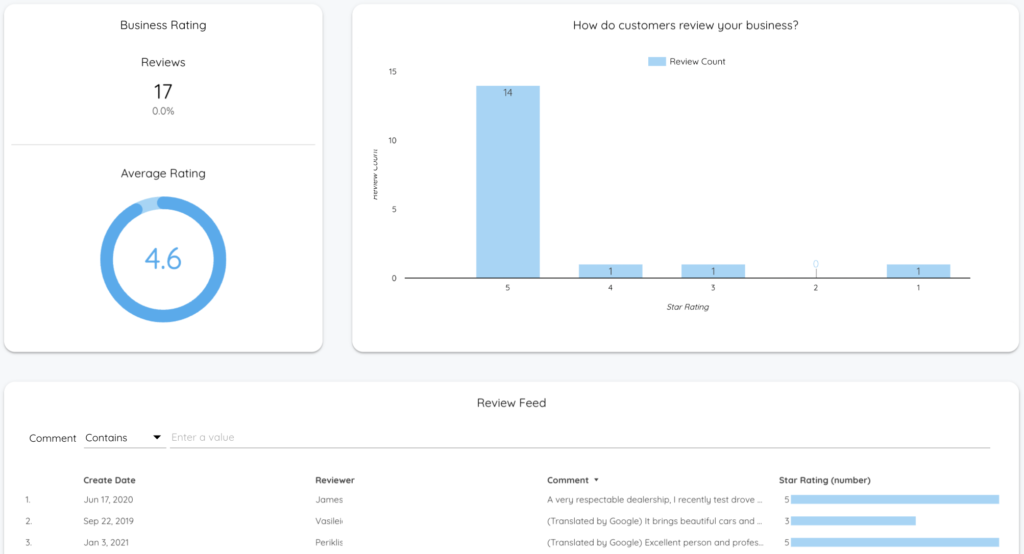 Are You Ready to Use SEO Client Dashboards?
Now that you've learned about the best solution for digital agencies, you can make sure you use the best SEO client dashboards available. Once you incorporate it into your business, you'll never want to go back to your older and less effective way of doing things.
Our Looker Studio templates have helped well over a thousand clients analyze and optimize their businesses. That way, you can grow toward your goals and beyond.
You're welcome to contact us with questions. Don't forget to sign up for our free newsletter and receive a free Google Analytics 4 audit.