46% of product searches begin on Google. That initial search is what leads to traffic to your website. But once the consumer reaches your website, what do they do? How do they interact with your digital business? To answer these questions, Google offers analytics software that allows you to see page views and engagement on the website. Recently, Google made significant changes to this software, switching from Universal Analytics to Google Analytics 4 (GA4).
Google Analytics 4 event tracking allows you to track the interactions of the visitors to your site. It also gives additional insights into what users do when they visit your pages. The more you know about your users and their actions, the better you can optimize your digital presence. You can then appropriately help them with what they want and need. This guide is here to help you learn everything you need to know about event tracking in Google Analytics. From what it is to how it works to how you can get the most out of it, it is all covered here.

What is the GA4 Event Tracking
Google Analytics 4 (GA4) is the most recent update to Google's analytical software. This update specializes in event tracking, which is a different model than the previous one (focused on page views).
This event-based system for data collection has more flexibility than previous versions of the software. It gathers greater quantities and better-quality of data than ever before.
GA4 is now able to track the time that is spent on each event by a particular user, whereas the earlier version was unable to do this. Outbound clicks and page scrolling are now primary events that are automatically collected through this version. These details offer great insight into how users interact with the site and its content. Having this information helps you to better connect and reach consumers.
GA4 Event Categories
With Google Analytics 4, events of all kinds can be easily tracked. From the generic events of page views and page scrolling to the company-specific events you can create, you'll be able to track whatever you need.
Google has certain events being already automatically gathered. These are automatic events and enhanced measurement events. Along with automatic events, you can also create your own events.
Here are the four different kinds of events in GA4:
Automatically collected events. Google Analytics automatically captures these events such as first_session, session_start, and page_view. You can check the full list of automatic events.
Enhanced measurement events. Google Analytics tracks these events once you enable the Enhanced Measurement feature on your property. These events are page scrolls, outbound clicks to external websites, internal site search, Youtube video engagement, and file downloads that allow you to measure users' interactions with your content. You can easily activate these events if you go to Admin>Data Streams>Open your stream>Enable Enhance Measurement. In case you want to disable a specific event from the above list, you can simply click on the gear icon and deselect the corresponding event.

Recommended events. These are events that you implement to your website/app in order to measure additional user behavior that is important to your business. As these events have predefined names, they can help you generate more insightful reports like eCommerce tracking. Some of the most common recommended events are for 1) e-commerce websites: view_item, add_to_cart, begin_checkout, purchase, etc., 2) lead generation websites: login, sign_up, etc. Here you can find the list of recommended events.
Custom events. These events are custom interactions that are specific to your business but are not included in the above list of recommended events. In other words, you will use custom events when no other previously made event fits the specific need. For this reason, you should define the name and the set of parameters for each custom event. For instance, you can track a specific button name on your website or heatmap clicks.

The disadvantage of the custom events is that they cannot be used in the majority of the standard reports in Google Analytics 4. However, these events are listed in the configuration part of the custom reports (Exploration).
How to Setup Events in GA4
Event tracking in Google Analytics 4 is simple for some events and more complicated for others. Let's start with the first category, where in a few steps, you can set up events inside the interface of GA4.
Create Events in Google Analytics 4
There is an "Events" section located under the Admin tab. From this section, there is a "create event" button. This is where you input the event that you wish to track ( Configure>Events>Create Event ). This process has a very similar approach to goal tracking based on a specific destination in Universal Analytics.

In order to create a new event in GA4 you should do the following actions:
Add your Event Name
Add the trigger for the event – use an existing event i.e. page_view and the destination page
Set specific parameters – in case you want to send a separate value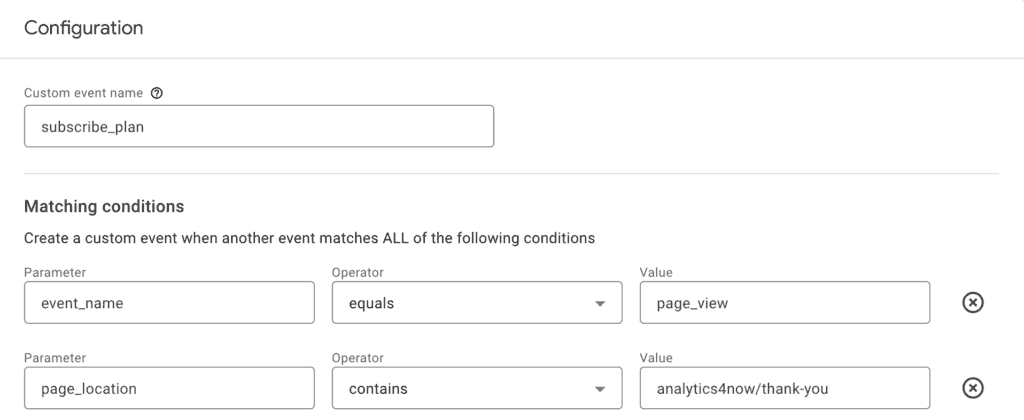 If necessary, you can quickly modify these events that you no longer wish to track. By viewing the existing events page and selecting an event, you can view the details of this event and change its parameters or edit or even delete it altogether.
Create Events via Google Tag Manager
The second category of custom (or recommended) events requires some extra effort in Google Tag (depending on how complicated is the configuration of each event). Let's take for example the setup of the GA4 purchase event (transaction). Below you will find the required actions (WooCommerce):
Create the variables

Create a trigger

Create a tag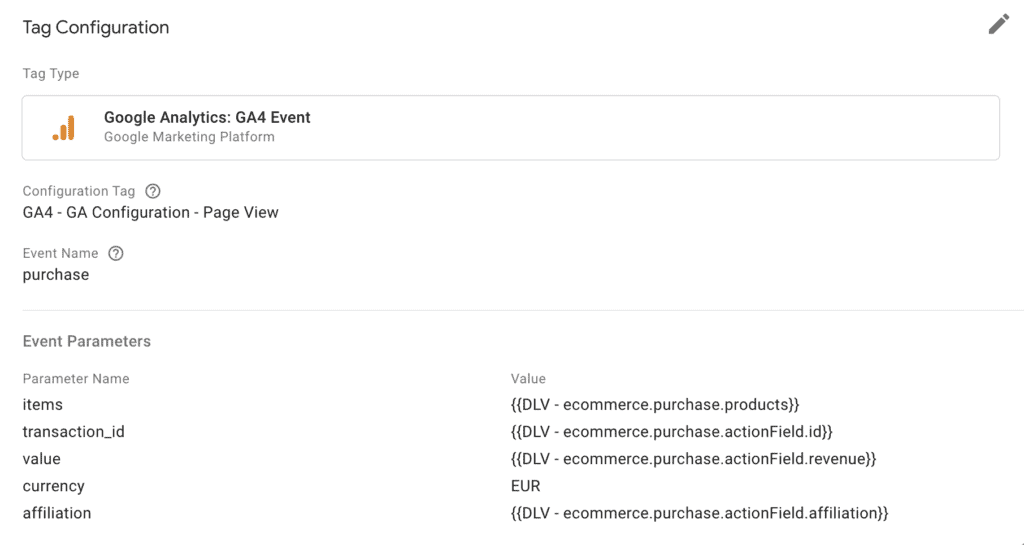 Understanding the GA4 Events You Tracked
After setting up the events you wish to track, you are then able to see the data that is being collected. While this is seen in Google Analytics 4 under the standard reports (Engagement>Events), it helps to have a more detailed analytics report with drill-down capabilities as you used to have in Universal Analytics.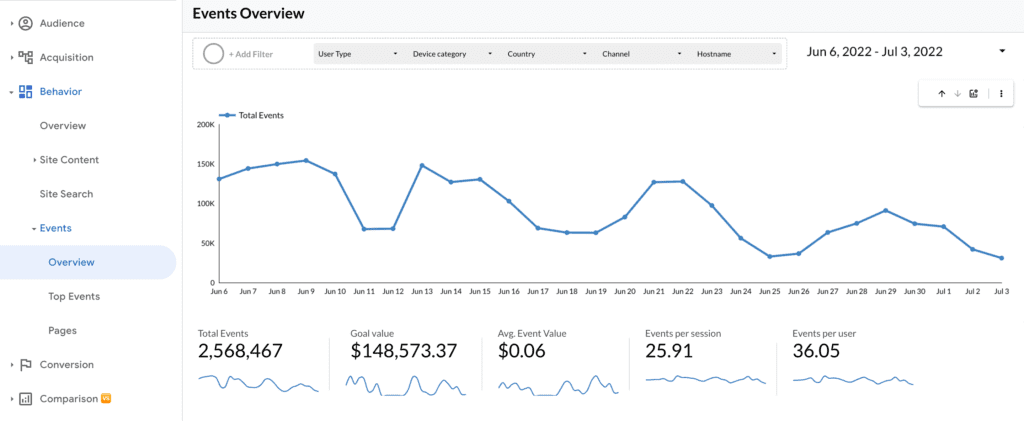 In this report, you see the number of events that have taken place over a period of time. This can be further broken down by the most popular events.
Data such as event count, event value, avg. event value and event per session/user are found in the report as well. Pages can be broken down into specific parts that provide the details of how each of those pages has been operating.
These reports will also give a filter functionality so you can easily find the specific event or set of events (i.e. all e-commerce events) you are looking for. By using the filters at the top you can further analyze your data based on key dimensions like country, device, user type, and marketing channel. These reports provide valuable insight into your business and help you to understand your customers' interactions better.
3 Tips for Using GA4 Event Tracking
There are various things that you can do to help better understand the data received from GA4 events. These useful tricks will make your experience with GA4 positive.
The first trick is that you can create new events in the GA4 interface without any backend work on Google Tag Manager. This is a great improvement of GA4 vs Universal Analytics, as it allows users to easily set up new events in seconds. However, have in mind that the creation of the events in the GA4 interface is limited as it should be based only on existing events.
The second trick is to use what is provided by the new version of Google Analytics. GA4 event tracking has multiple pre-configured events that are easily added alongside the unique events that have already been created. Utilizing these types of events saves time and energy and is one less thing to worry about.
The third, and probably most important, the trick is having an analytics report. This is a fantastic way to visualize the data and compile that information.
This is a resource that will aid in informing business decisions and ultimately expand the company. There are multiple templates to choose from that fit any business. With GA4, this is a valuable asset to understanding the gathered information.
Get Started with Your Event Tracking
Google Analytics 4 event tracking system improves the way in which you collect user data that helps better understand the interactions people have with your business. This is valuable information that will assist in better understanding markets and how the company is operating online.
Easily transition to GA4 and get substantial reports on the acquired data that you need.