Google Looker Studio (formerly Data Studio) has long been the go-to free platform for creating interactive data visualizations. However, in a significant move, Google has recently released the paid version, Looker Studio Pro. This announcement marks a significant shift, as it brings to the forefront a tool that extends far beyond the capabilities of its free counterpart.
Google Looker Studio Pro emerges as a powerhouse in this domain, empowering organizations to fully unlock the potential of their data. In this comprehensive guide, we'll delve into Looker Studio Pro, highlighting its features, benefits, pricing, and the steps to subscribe.

What is Looker Studio Pro
Looker Studio Pro is the paid version of Looker Studio, which is an advanced data visualization and analytics platform designed to help organizations make informed decisions based on their data. It offers a range of key features and functionalities tailored to meet the reporting needs of businesses, allowing users to easily create interactive data reports and pull insights from multiple data sources.

Looker Studio Pro vs Free
Looker Studio Pro's introduction doesn't create a dilemma between the versions, as everyone has access to Looker Studio (free). However Looker Studio Pro provides exclusive access to specific features like personal report links and filter bar for editors, mobile apps, service level agreements (SLAs), enterprise capabilities, and technical support.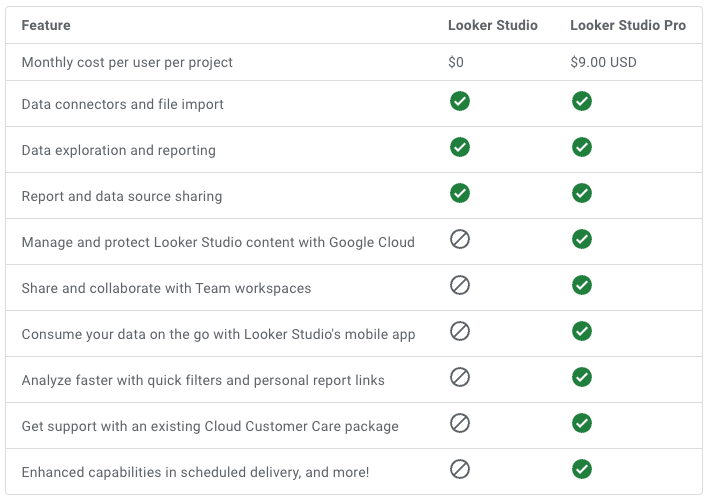 The next section will highlight these distinctions to help you understand the new additions to the paid version.
Looker Studio Pro Features
Looker Studio Pro offers several extra features to businesses:
1. Organization's Content Management
The pro version provides comprehensive control over your organization's content. All your reports and data sources are securely and exclusively owned by your organization, ensuring data security and control.
In addition to this, Looker Studio Pro introduces a Sandbox environment. The Sandbox is a dedicated space where you can develop personal content that leverages its advanced features. Within the Sandbox, you can create and manage data sources and reports that belong exclusively to you, providing a staging environment for testing and analyzing your data.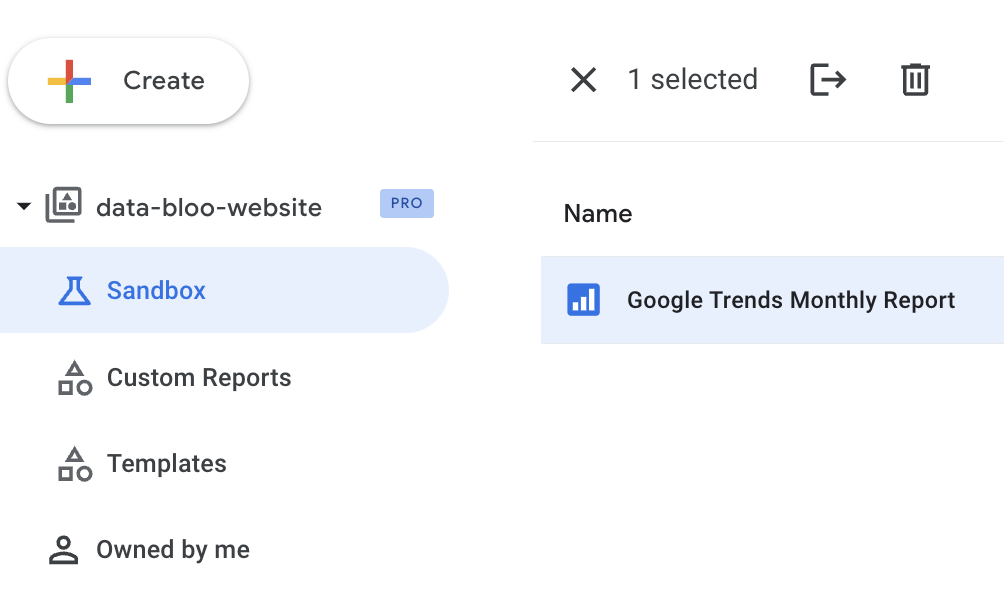 2. Team Collaboration with Group Workspaces
Team Workspaces enable seamless collaboration, granting specific permissions to users for efficient content sharing. The organization's admin has the authority to grant or revoke access for specific members, maintaining tight control over data access.
Looker Studio Pro introduces Group Workspaces, allowing users to manage access and share Looker Studio content within their teams. Within these collaborative spaces, you and your team automatically gain access to the content. To further optimize collaboration, you can assign specific permissions based on each member's role, which includes options such as Admin, Manager, Content Manager, or Contributor. This granular control allows you to tailor access to precisely fit your team's needs, enhancing efficiency and collaboration.
3. Optimized Report Delivery
Keep your colleagues, clients, and stakeholders up to date with enhanced scheduled report delivery features. Looker Studio Pro allows you to add up to 20 delivery schedules to a single report. This flexibility ensures timely updates and tailored delivery to your stakeholders, whether they are colleagues or your clients.
Furthermore, with the pro version, you can personalize scheduled reports by filtering data based on recipient email addresses. By specifying an email address field for each data source in your report, you can tailor the content delivered via email to individual recipients.
Also, this version empowers you to schedule reports to Google Chat, streamlining communication with your team.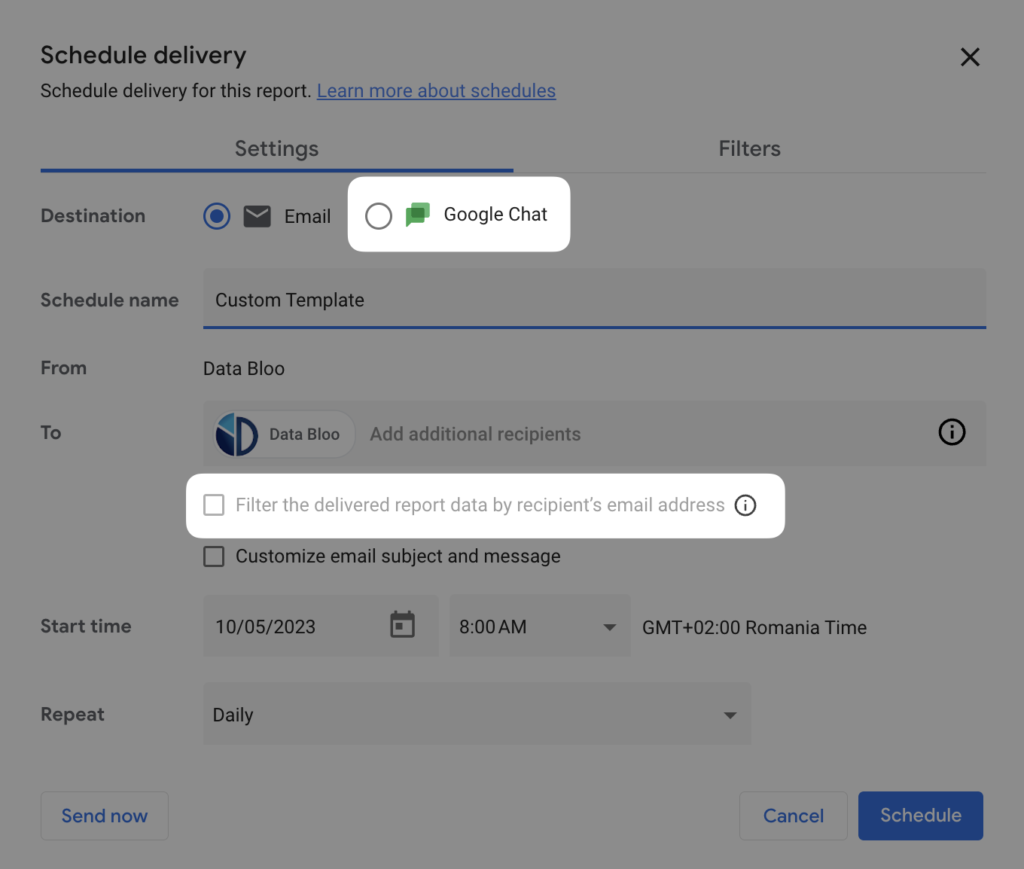 4. Personal Report Links & Filter Bars
Personal report links create copies of your reports accessible only to designated individuals. When you provide someone with a personal report link, Looker Studio generates a unique copy of your report via Looker Studio API, ensuring that it is accessible exclusively to the person who opens the link. These links enable you to share editable reports with specific individuals without making any changes to your original report.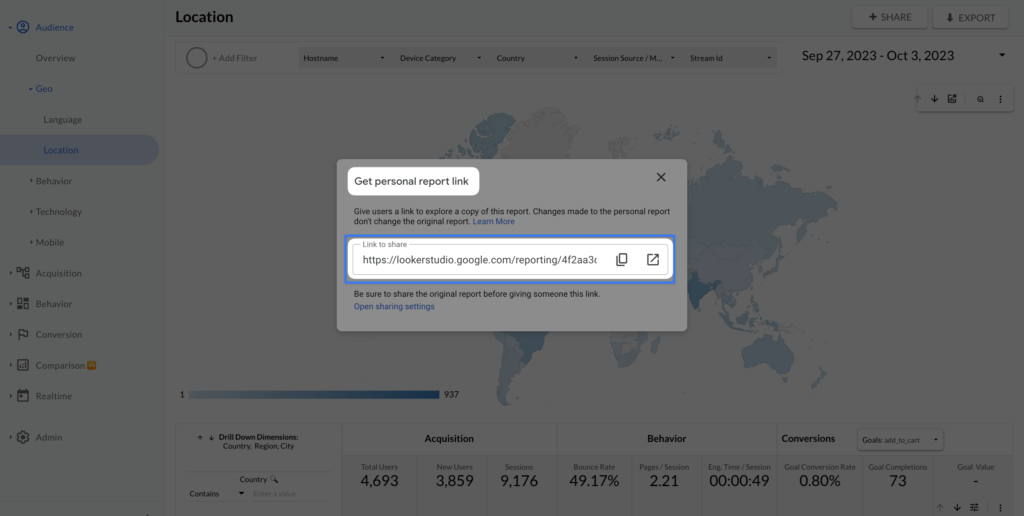 In addition, the pro version simplifies report editing with the introduction of the filter bar. This feature allows users to add filters in the edit mode of their report, making it easier to refine charts and check data as they customize their reports. This bar is now available for Looker Studio free as well.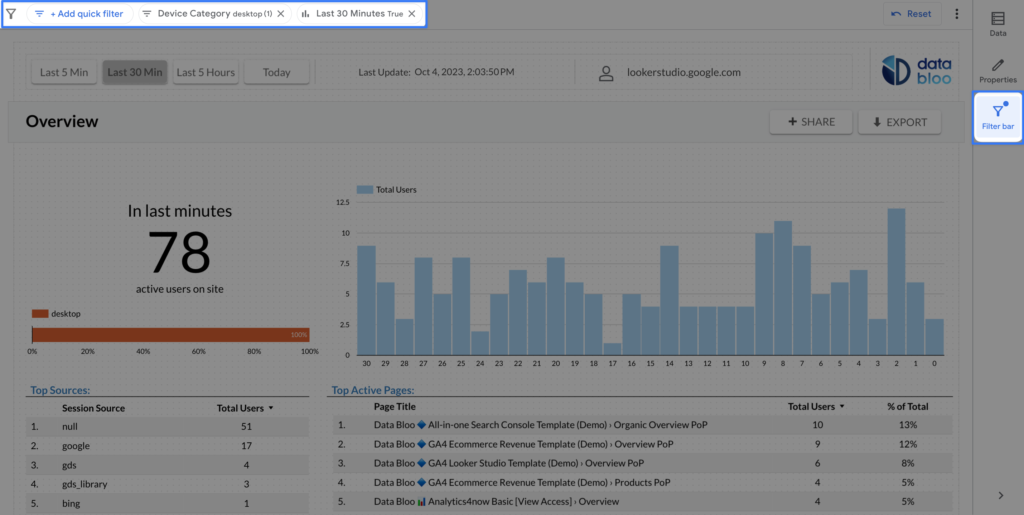 6. Looker Studio Mobile App
Google has released a brand new app exclusively for Looker Studio Pro Users. This app offers the convenience of accessing and collaborating on Looker Studio data while on the move. The Looker Studio mobile app allows you to view reports in a mobile-friendly format, access shared reports, and easily share your insights with others. You can download the app on App and Android stores to analyze your data anytime, anywhere.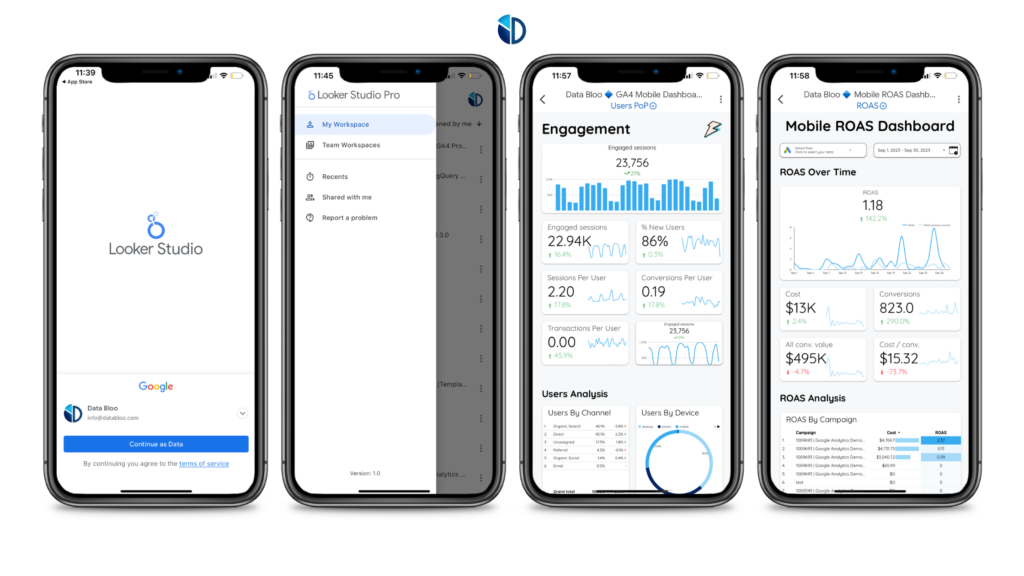 7. Custom Support
Last but not least, Looker Studio Pro customers have access to Google Cloud Customer Care and support services, ensuring assistance if needed.
How to Subscribe to Looker Studio Pro
Getting a Looker Studio Pro license is a straightforward process:
Sign in to Looker Studio.
In the left navigation, click "Pro subscription."
Enter a valid Google Cloud Project that is connected to a valid billing account.
Add users to your Looker Studio Pro subscription.
Looker Studio will calculate the number of licenses required based on your user input.
Complete the upgrade process (it takes less than 2 minutes to launch the Pro environment).
Ensure that your Google Cloud project is owned by your organization and is not currently used for a Pro subscription.
Once you get the license, simply use the same URL: https://lookerstudio.google.com to log into Looker Studio Pro. For more information, you can check the Looker Studio Pro documentation.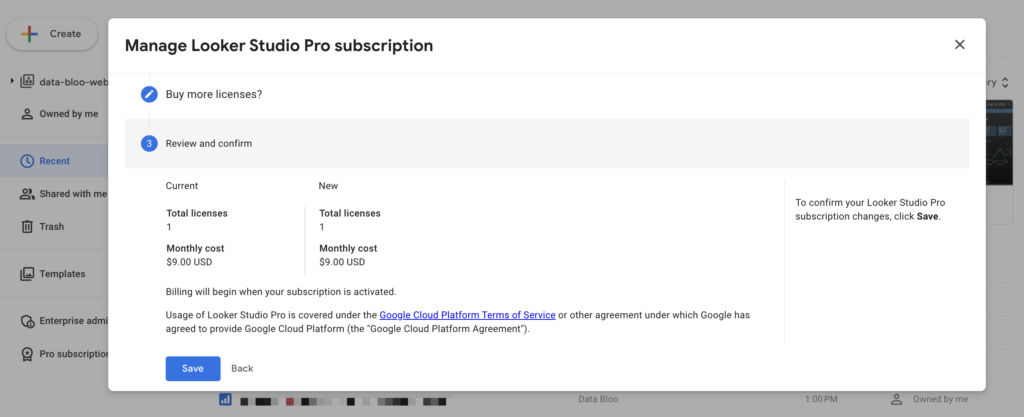 Looker Studio Pro Pricing
The Looker Studio price is $9 per license per user. This pricing structure allows organizations to tailor their subscription to their needs, with the option to purchase additional licenses as required for scalability.
Moreover, organizations can explore Looker Studio Pro at no cost for 30 days. This trial period grants access to all the standard features of Looker Studio, as well as the full capabilities of the pro version. Notably, there are no limitations on the number of users that can be added to the trial subscription, providing an opportunity for your entire team to experience Looker Studio Pro's benefits without constraints.
Unlock the Full Potential of Looker Studio Pro

In conclusion, Looker Studio Pro is a powerful tool for enhancing data analytics and visualization capabilities within your organization. Its unique features, benefits, and ease of subscription make it a valuable asset in the data-driven business landscape.
To further enhance your data analysis journey, whether using Looker Studio (free) or Looker Studio Pro, don't forget to check our templates, offering ready-to-use solutions tailored to your needs.