Instagram is the fourth most popular social media app worldwide. Around the world today, it has more than 2 billion people use the app at least once a month. For businesses, it represents an essential tool for reaching and interacting with potential customers.
The video and photo-sharing app is ideal for showcasing products. It's also great for building brand loyalty. It provides a direct line of communication and connection with customers and potential customers.
But if you want to utilize Instagram to grow your business, it's important to make sure that you know how to leverage the platform and your performance on it.
Using a tool like an Instagram insights report is a simple way to ensure you maximize your impact on the app. Keep reading to learn more about using the Instagram insights template for Looker Studio to monitor your presence on this social media channel.

Key Features of Instagram Insights Report
Instagram can be an excellent tool for reaching new customers. You can use it to showcase your products and connect with your target audience. In turn, it can be used for building brand loyalty. However, if you aren't analyzing your performance on the app, it can be difficult to know whether your content such as posts and videos is effective.
Without this knowledge, it's almost impossible to improve your overall performance. This is where an Instagram Insights report comes in handy.
KPIs for Instagram
Key Performance Indicators (KPIs) are essential metrics that help you track your Instagram performance and make data-driven decisions to improve your strategy. Below you will find the most important Instagram KPIs:
Reach – It refers to the number of unique accounts that have viewed your business's content.
Follower growth – It measures the number of new followers you gain on Instagram over a given period. Tracking your growth helps you understand the effectiveness of your content strategy and how it resonates with your audience.
Post/Reel Engagement Rate: It shows how engaging your content is to your audience. It is calculated by dividing the total number of likes and comments on a post/reel by the number of impressions that content received.
Profile Views: Profile views refer to the number of times your Instagram profile has been viewed. This KPI is important because it shows how often users are visiting your profile.
Website Clicks: Website clicks measure the number of times users click on a link in your Instagram bio to visit your website. This KPI is crucial for businesses that use Instagram to drive traffic to their website and generate sales or leads.

These metrics help you provide an overview of your profile's reach, your followers' engagement with content, and more. reach that your profile is achieving, whether or not your followers are engaging with your content, and more. By tracking these Instagram KPIs, you can not only monitor your current progress but also identify areas for improvement to further enhance your social media strategy.
Instagram Insights Across 4 Sections
Looker Studio is designed to help you create reports with data sourced from several locations. If you want to leverage the Looker Studio to gain greater insight into your business's Instagram usage, the Instagram insights Looker Studio template can help.
This template is designed to provide an array of useful analytics. These analytics can help you to get a better understanding of your business's Instagram account. The template can help you analyze 4 key categories.
Instagram Overview
The first thing that the Instagram insights Looker Studio template can do is monitor your account growth. Track how many followers you have and the rate at which your account is growing. You can use this information to compare your growth to your posting strategy. This allows you to see what is working and what isn't.
Furthermore, this section includes all the above-mentioned KPIs such as profile visits, impressions, clicks, and a quick snapshot of the views by day of the week, likes by media type, and posts by engagement rate.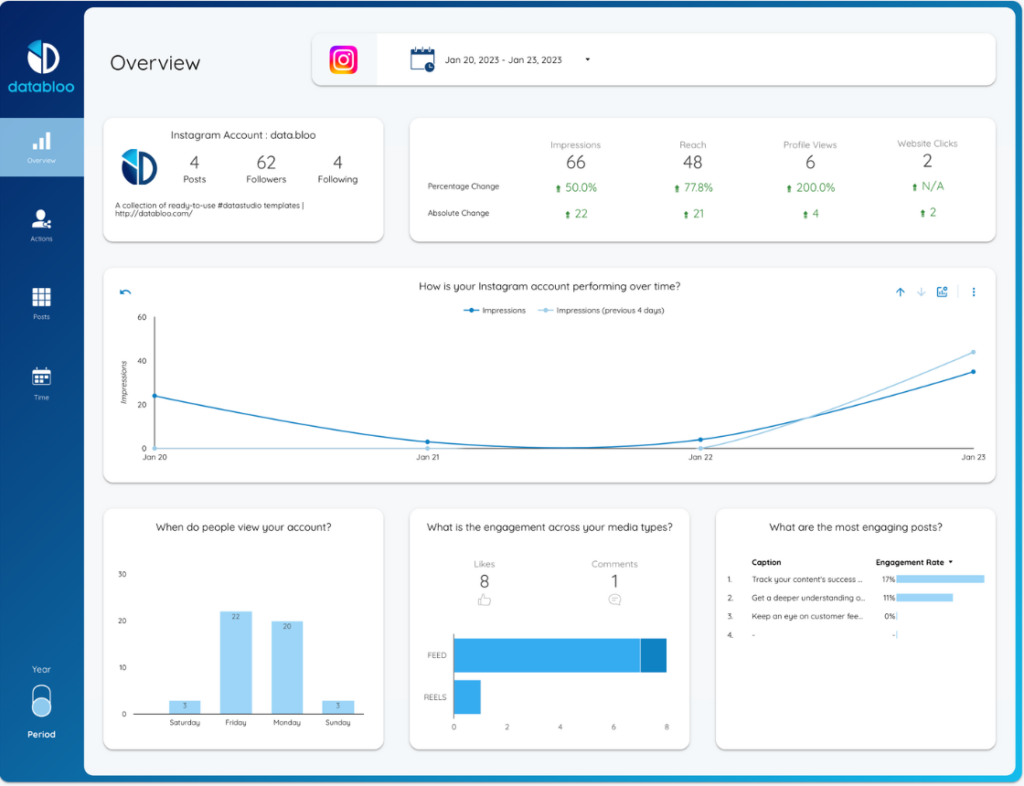 Follower Actions
Another part that you can track is your followers' engagement. This analyzes key actions taken by your followers on your profile, including call clicks, website clicks, and map direction clicks, providing valuable insights into how much your audience interacts with your business. This information can be used to understand your followers' behavior by the day of the week and how it has changed over time.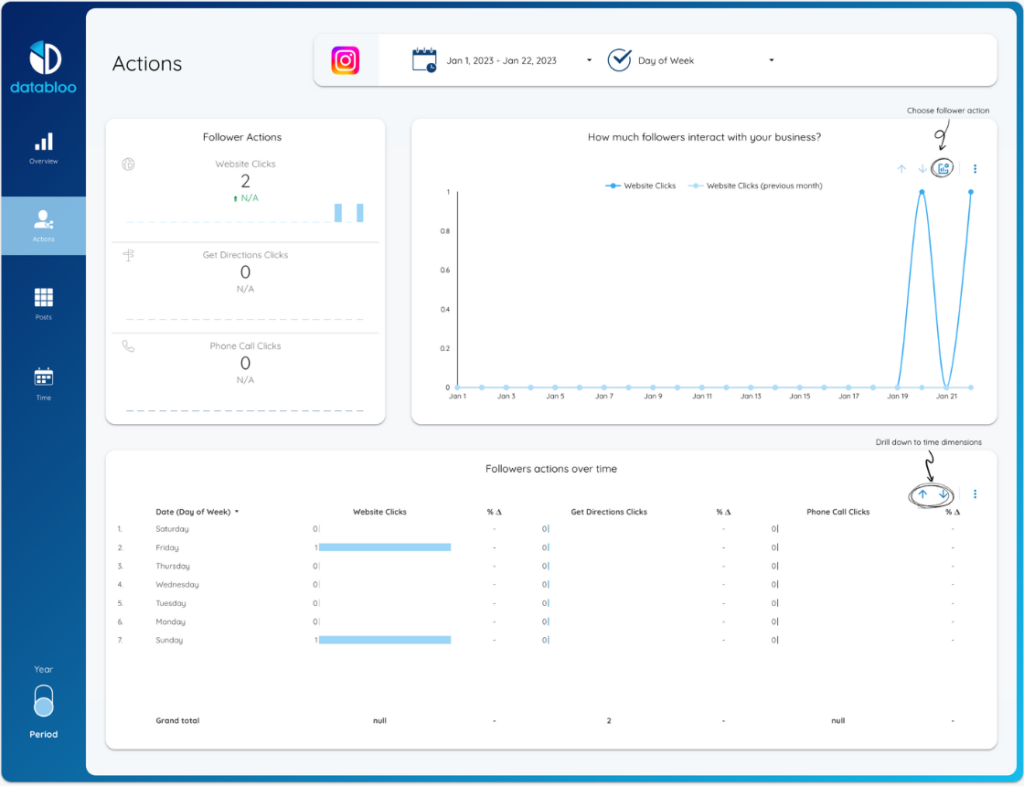 Post Engagement
Media engagement is the third category that the Looker Studio template can help you to analyze. This category includes your post engagement rate, the reach that your posts have, and the overall number of likes and comments. Additionally, this section includes the performance by post (post, reels) and media type (image, video, etc.). This information is related more to the overall reach of your posts beyond your followers.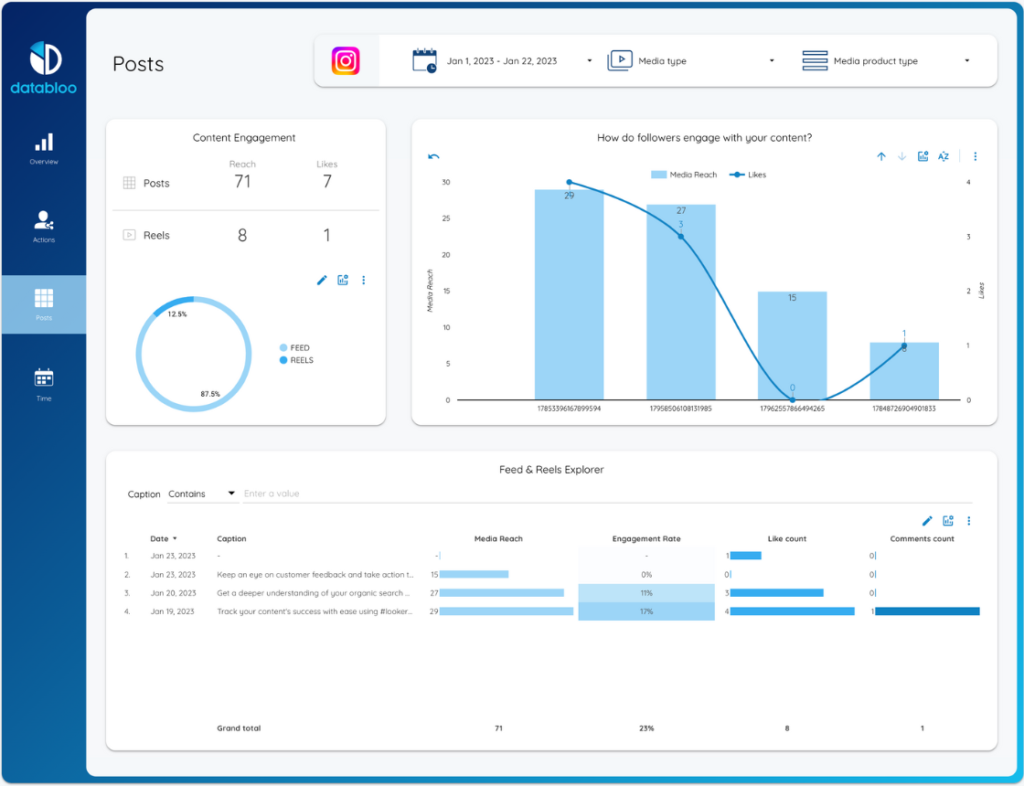 Time Performance
Finally, the template can help you track your performance over time. Your report will allow you to easily compare your performance by day, week, and month including crucial metrics such as impressions, reach, profile views, and clicks. This information is especially important if you want to monitor the progress of your Instagram strategy.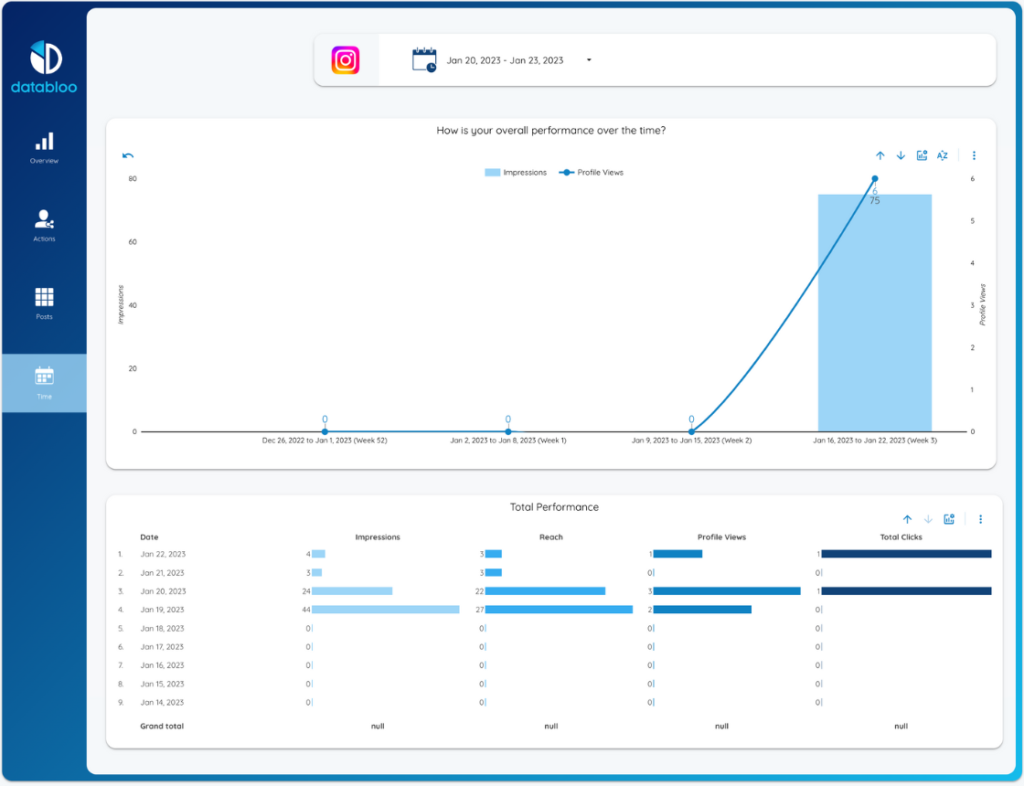 Benefits of Using Instagram Insights Looker Studio Template
Using the Instagram insights Looker Studio Template makes it easy to track and improve your business's performance on Instagram. Data studio templates make it easier to understand and analyze key metrics from various social media platforms. They integrate with your social media accounts and provide dashboards that bring together information from a variety of sources. 3 of the main benefits of using this Instagram insights report are:
It provides a variety of in-depth insights and performance tracking. This allows you to instantly track the success of your content so that you can make improvements to your strategy.
It saves you time gathering key data insights while still allowing you to collect the information that you need. Equipped with this in-depth information, you can make better decisions about your Instagram usage and answer questions like "What type of content does my audience prefer?" or "When is the best time of the week to post reels?
It offers the flexibility to customize your template to meet your reporting needs and quickly analyze any new information.
Utilizing the Instagram Insights Report
Social media analytics play a critical role in understanding how your brand is perceived on social platforms. Not only can you track your performance and use that information to improve, but you can also gain valuable insights into your target audience's interests and preferences by analyzing their behavior and engagement with your content. These insights can help you make better decisions from product development to branding.
If you're ready to take your business' Instagram usage to the next level, utilizing an Instagram insights report can help. The Instagram insights Looker Studio template makes it easier than ever before to improve your Instagram strategy. Use it to track key performance points so that you can make improvements and expand your overall presence.