Advertising is Facebook's primary source of revenue.
Facebook is a massive platform with billions of users around the world. This platform has evolved over the years and has become one of the most essential platforms to market your business. Facebook understands this and has created tons of tools designed specifically for advertisers.
These tools allow you to create marketing ads while also keeping an eye on how they're performing. This data is essential to help shape your entire campaign. Using the right Facebook ads KPIs can help provide you with the information you need to make your marketing campaign a success.
Interested in learning more about optimizing your social media marketing campaign? Here's a quick look at the best Facebook ad KPIs to keep track of.

5 Reasons to Have Facebook Ad KPIs
Facebook KPIs stand for key performance indicators. In simple terms, KPIs are measurable metrics that can highlight progress and the overall success rate of your Facebook ads. KPIs are used throughout the business world to simplify and track the success and state of interventions.
Facebook ad KPIs work in the same way as traditional business KPIs. These KPIs are directly linked to the success of your marketing campaign and can help you make adjustments in real-time. Here's a quick look at why you should have KPIs for Facebook ads.
1. Measure Your Effectiveness
The fundamental purpose of Facebook KPIs is to track the effectiveness of every Facebook ad. This is a vital piece of information for the business as it will let you know if you've invested in the wrong place. Once you get the information, you'll be able to adapt your campaign to become more effective in the long run.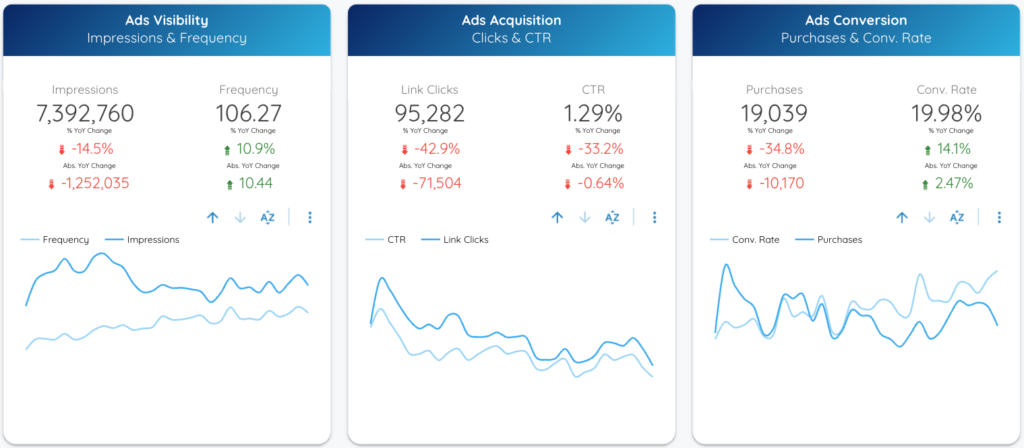 2. Identify Improvement Areas
As mentioned above, keeping track of Facebook KPIs will let you know where you can improve your campaigns. This gives you data in real-time, allowing you to make adjustments on the go.
3. Justify Social Media Marketing
Social media channels are a great way to reach customers for your business. Even though it's well documented that social media marketing is effective for many companies out there, having KPIs to highlight your success is the best way to justify your current budget or additional ad spend.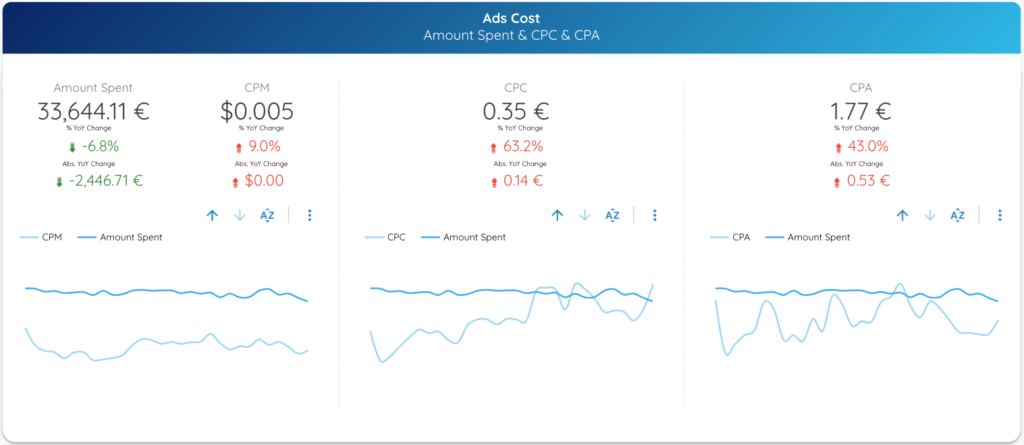 4. Informed Marketing Decisions
Not all social media marketing is the same. Using Facebook ad KPIs can help guide your entire campaign in the right direction. If you see that some ads are performing better than others, the KPIs give you concrete proof that you can use to improve the campaign.
5. Demonstrate Marketing Impact
Facebook ad KPIs are the simplest way to highlight the success of your marketing campaign. These KPIs are incredibly simple to understand. This means that you can share these results with your data colleagues, managers, and even stakeholders of your company.
The Best KPIs for Facebook Ads
Tracking your Facebook ads will give you all the information you need to manage a successful campaign. If you're wondering about the best KPIs to track for your Facebook ads, here's a quick look at some of the best indicators you can look at.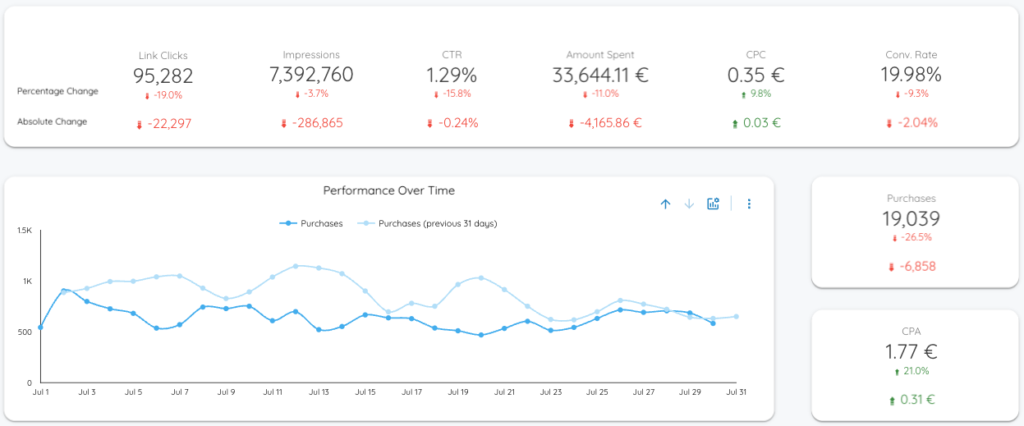 1. Impressions
An impression is the number of times your ad has appeared on someone's screen. This is the total number that your ad appeared regardless of whether someone clicked or viewed it.
2. Overall Reach
The overall reach of your ad is defined as the total number of people that saw your Facebook ad. This differs from an impression as it's based on how many users saw the ad and not on how many times the ad has been seen.
3. Frequency
The frequency metric is designed to show you how often your ad is showing up for people on Facebook or other networks such as Instagram. Since Facebook knows when to show your ad, a low frequency could show that your ad isn't targeted in the most effective way.
4. Total Clicks
This metric is simply the number of times your ad was clicked. This is the most accurate way to measure the effectiveness of your ad copies & creatives.
5. Click-Through Rate (CTR)
While many people just see your ad, others will be interested and click on it. Click-Through Rate (CTR) is the metric that tracks this percentage.
6. Engagement Rate
The engagement KPI will let you know how many people are interacting with your ad on Facebook. This includes likes, shares, and comments. Engagement is a positive sign as it helps bring more people to your ad.
7. Conversions
While many people click on ads, a few stick around and become leads or even customers. The number of people that make a desired action for your business such as submitting a form, watching your product demo, downloading a resource, or even making a transaction is known as conversions.
8. Conversion Rate
This metric is a percentage that lets you know how many people clicked and became new leads or customers. The rate is based on how many people clicked the ad compared to how many clicked and made an important action to your business.
9. Cost Per Click (CPC)
The Cost Per Click (CPC) KPI simply tracks how much you had to spend in order to get a click on your ad. This metric will let you know if there is a lot of competition around your campaign and in case your ad is targeted properly.
10. Return On Ad Spend (ROAS)
The ROAS is simply the amount of money your business received based on how much you spent on ads. This will let you know if the marketing campaign was worth it. Similar to this metric, is also the CPA (cost per action) which shows how much it costs to you a desired action (conversion).
11. Follower Growth
If you're trying to build a brand for your business, it's important to keep an eye on your follower count. The follower growth KPI is perfect as it will let you know how your followers are growing over time.
Tracking Facebook Ad KPIs with our Templates
In addition to tracking these Facebook Ads KPIs, it's important to have a reliable and efficient system in place to collect, store, and analyze the data. We have built two Looker Studio Templates specifically designed for Facebook Ads performance:
The Facebook Ads Looker Studio Template is a comprehensive solution for tracking Facebook Ads KPIs. It provides marketers with a centralized platform to access, visualize, and analyze all their Facebook Ads data. The template includes a wide range of KPIs, such as impressions, reach, frequency, clicks, CTR, engagement, conversions, conversion rate, CPC, and more. This template helps marketers keep a close eye on their Facebook Ads campaign and make informed decisions based on real-time data.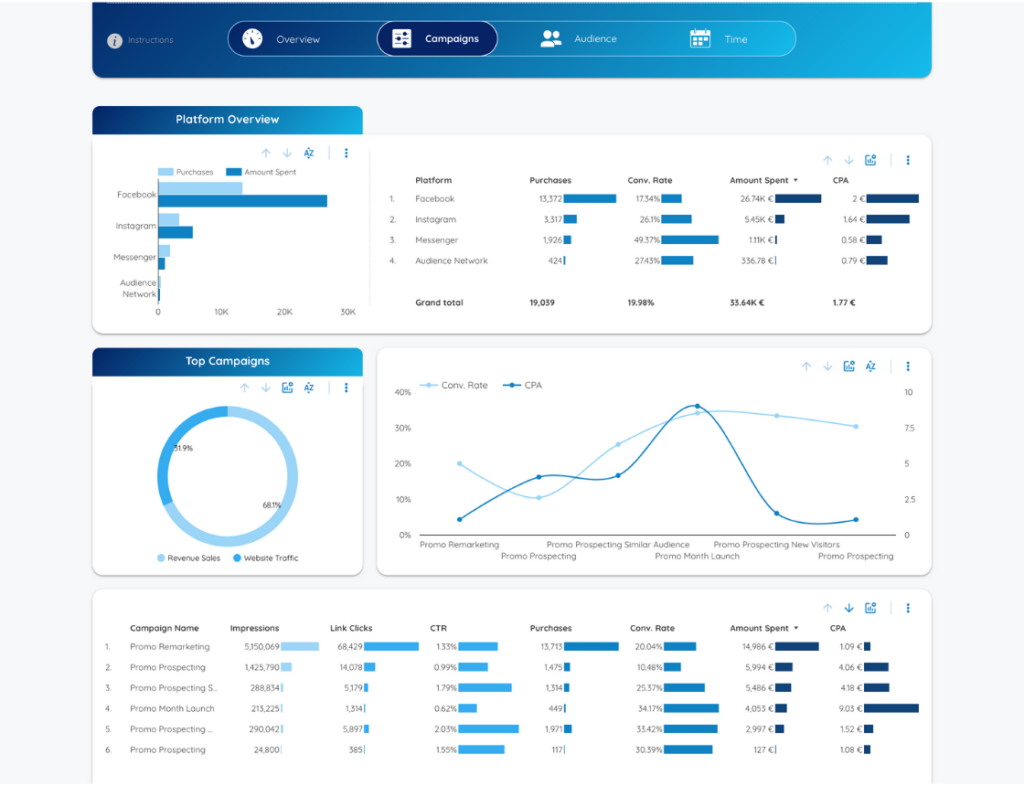 The Digital Performance Master Template is a comprehensive solution that covers not only Facebook Ads, but also other digital channels, such as Google Ads, Google Analytics, and Google Search Console. This template provides you with a complete overview of their digital performance and helps them make better decisions for their marketing channels.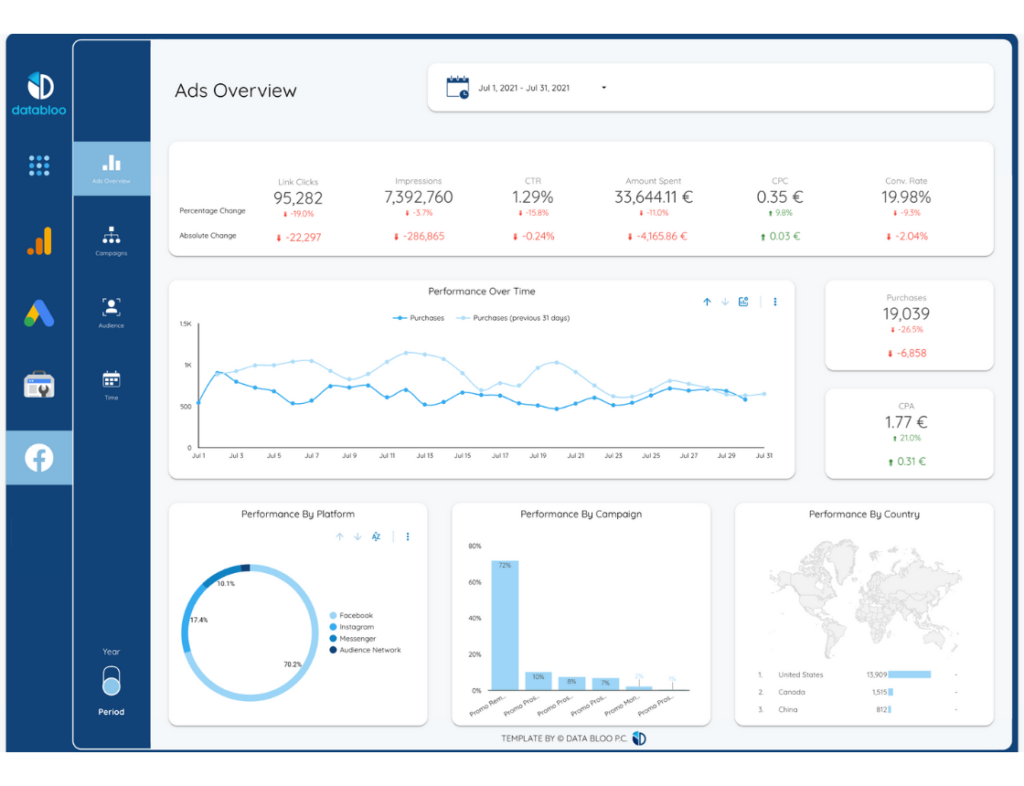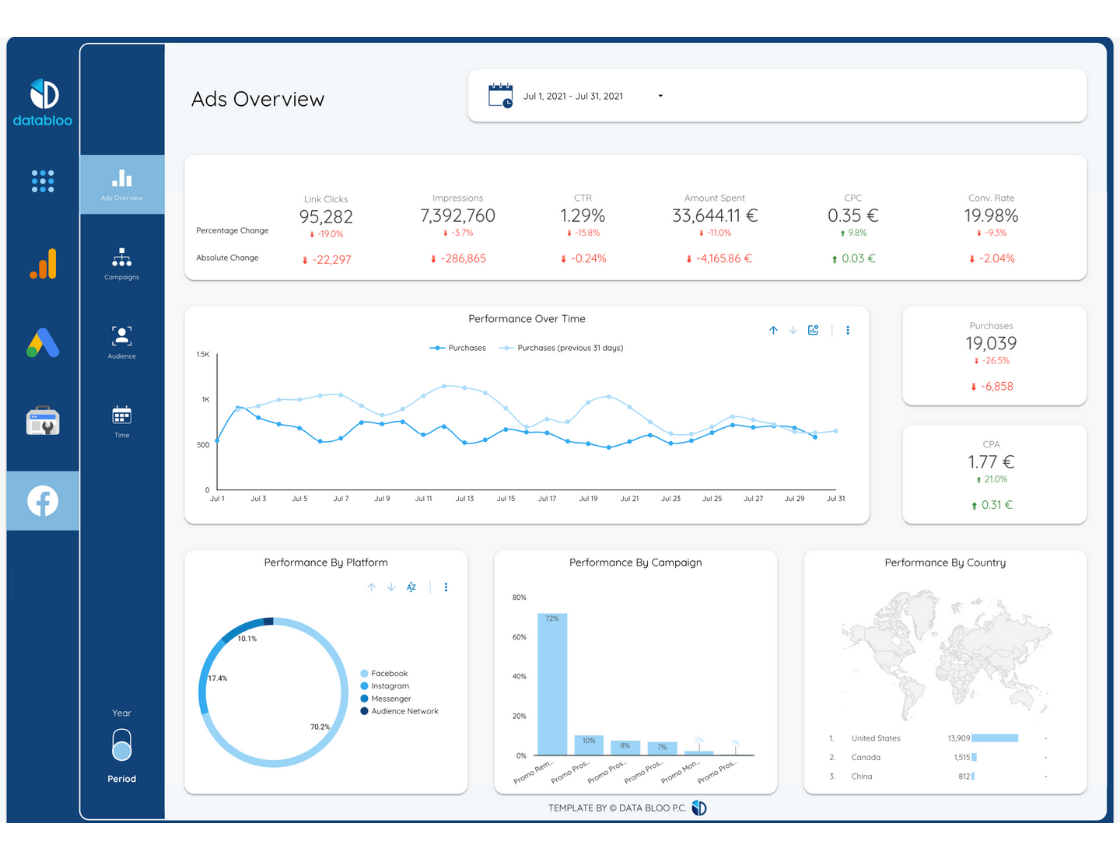 By using these Looker Studio Templates, you can streamline their data analysis process and focus on what matters most: driving results for your business. With these ready-to-use templates, any marketer can easily monitor their Facebook Ads KPIs, track progress, and make data-driven decisions to optimize their campaigns.
Measuring Your Facebook Advertisements
It's important to keep a close eye on the most essential Facebook ads KPIs. Leveraging this data in real-time can allow you to adapt and adjust your marketing campaign. This way, you can ensure that your campaign is successful while making every marketing dollar count.
If you're using Google Looker Studio to analyze your data, using our pre-built templates is the most effective option. These templates can help gather and present data in a simple, elegant, and practical way. Contact us today for custom templates to optimize and analyze your online data.