SEO professionals often struggle when it comes to tracking the actual performance of their organic search activities. Imagine how effective would be using some ready-to-use SEO reporting dashboards that could visualize your data in a few minutes!
Using Google Data Studio, a free data visualization platform, you can build from scratch any marketing dashboard, and take advantage of the available free and paid SEO template resources.
Below you will find our recommendations for the top 5 SEO reporting dashboards to help you understand your organic performance and save your time from manual reporting.
Are you looking for ready to use Dashboards? Check our Data Studio Gallery!
Source: Google Search Console

Set Up: Medium – Instructions
By using this is an all-in-one keyword level report, you can easily track your keyword rankings including the Top 3 ("business drivers"), Top 10 ("performers") and Top 20 ("lacklusters") queries. It allows you to research new keywords with the use of different attributes such as brand & generic, long & short tail, ranking position, device and country. You can spot interesting patterns with the most searched and most trending keywords that generate organic traffic to your business.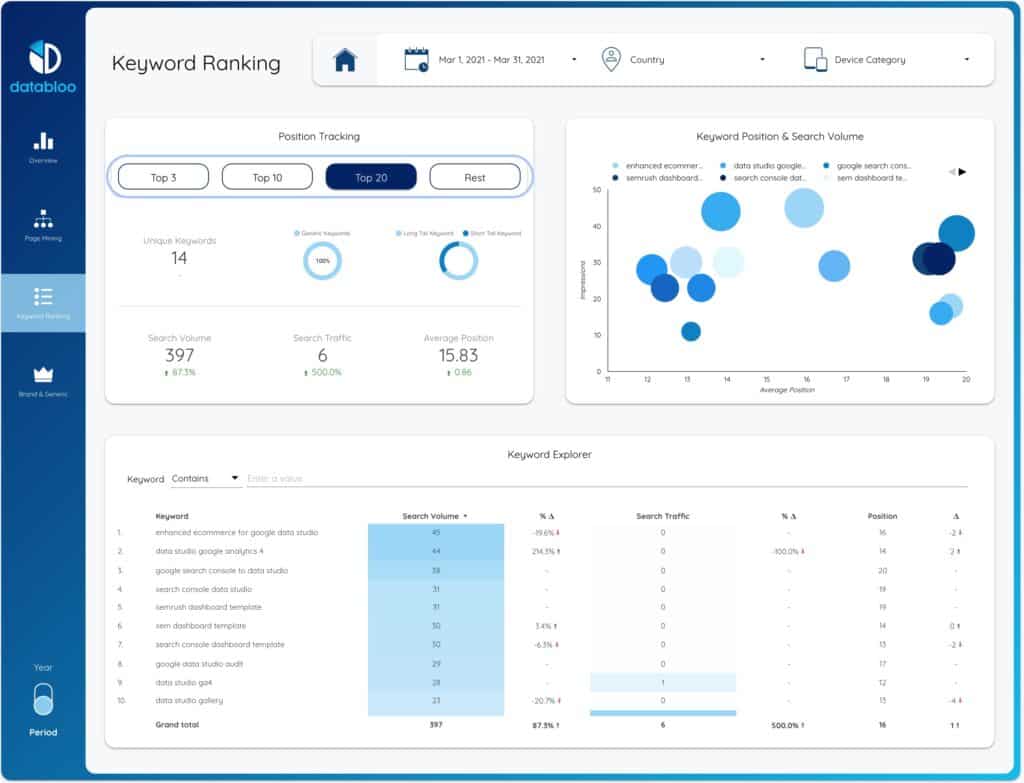 Screaming Frog Report
Source: Screaming Frog, Google Spreadsheet

Set Up: Difficult – Instructions
The Screaming Frog report will help you detect potential SEO issues and measure the technical performance of your website. Apart from the great summary that shows crawl overview information, this template examines various aspects of your site health such as indexability, missing or duplicate title tags, blocked URLs over time, hreglang validation issues. Additionally, it monitors the Core Website Vitals performance from the Chrome UX and page speed opportunity data via the PSI API.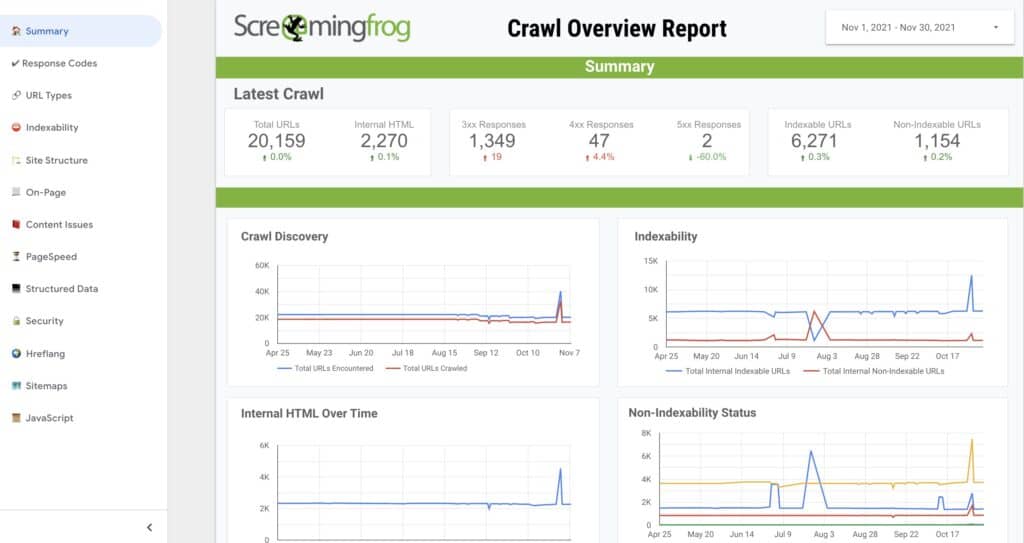 SEMrush Data Studio Template
Source: SEMrush

Set Up: Medium – Instructions
Having this report along with a SEMrush Business subscription, it will help you to monitor the high level picture of your organic search performance. You will be able to spot any sudden changes or seasonal trends and identify whether your company's content strategy affects the relevance of the links you attract. Also, this reports includes a summary of your website's technical health.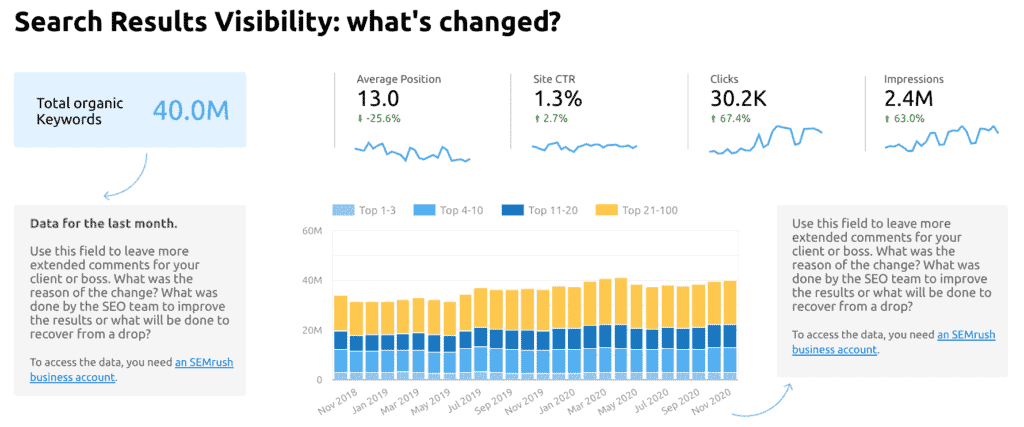 Advanced SEO Dashboard
Source: Google Search Console, Google Analytics

Set Up: Easy – Instructions
This SEO dashboard provides a holistic view of of what's happening on your website, displaying the evolution of total traffic along with the organic penetration. It helps the user to spot historic trends and identify issues over the last 13 months. Moreover, it includes a SC health check analysis and shows how keywords are distributed among the top 3 pages of search results. The Advance SEO Dashboard allows you to have a quick segmentation based on keyword clusters.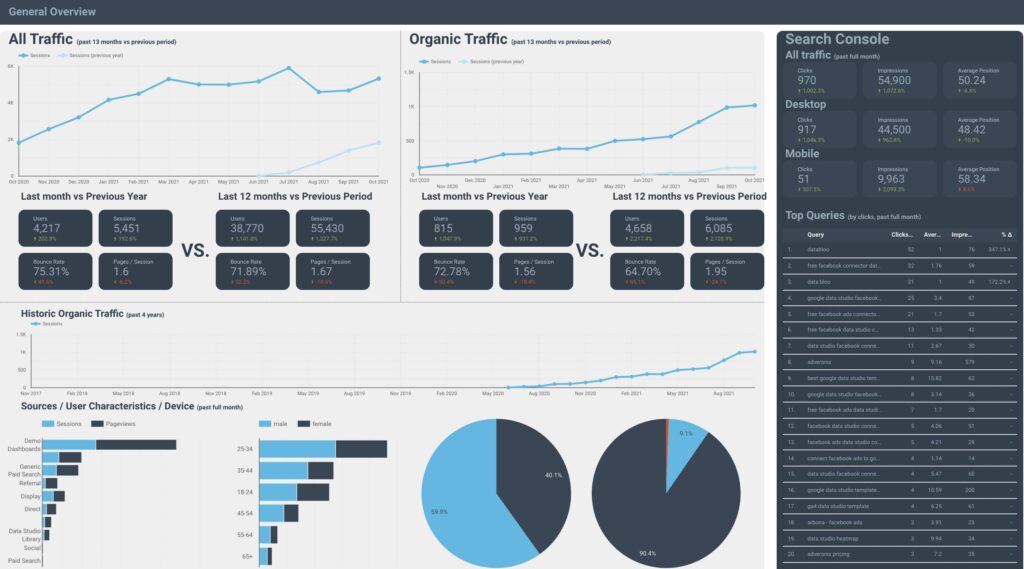 Ahrefs Data Studio Template
Source: Ahrefs, Google Spreadsheets

Set Up: Medium – Instructions
This Data Studio template is using Ahrefs as original data source and can help you to take better decisions with organic search data when it comes to prioritizing your content roadmap. The report categorizes all the keywords based on their SERP features and the level of difficulty. This feature enables you to identify the most valuable keywords for your business and understand the type of content you should focus on to get more traffic.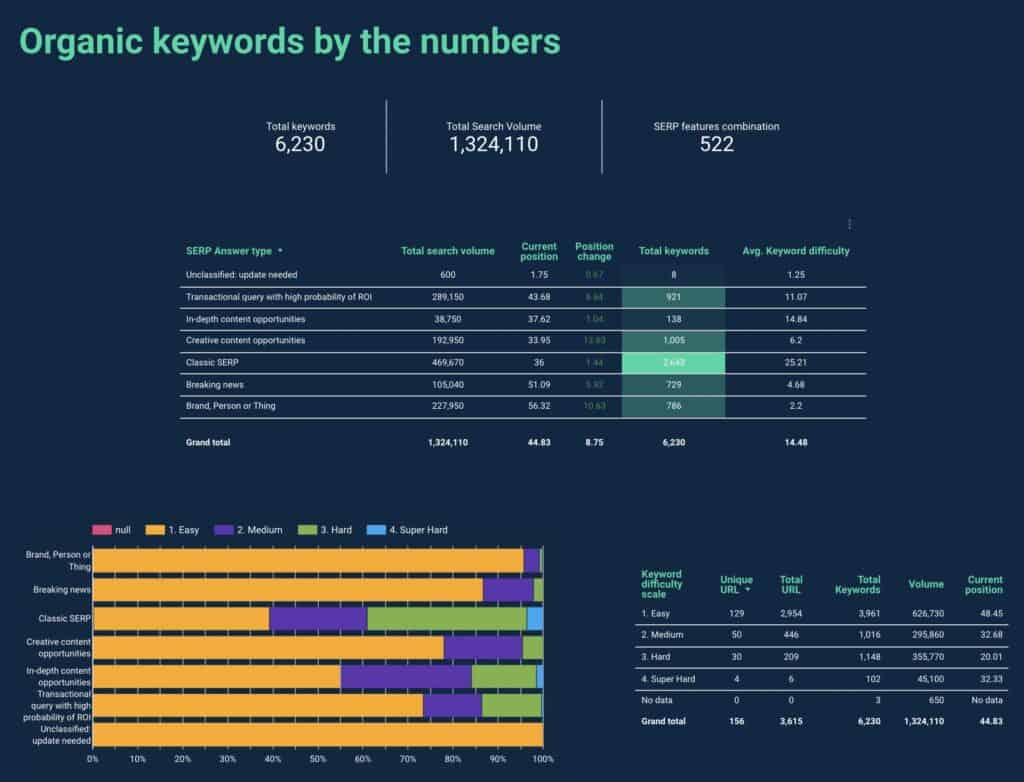 Bonus – Ahrefs Backlink Report
Source: Ahrefs, Google Spreadsheets

Set Up: Medium – Instructions
The Backlink report uses Ahrefs as a data source to monitor the backlink performance of your website, and analyze the amount and quality of the websites that are linking to your domain. Additionally, it shows the actual links, the referring pages, and the domains that drive this traffic.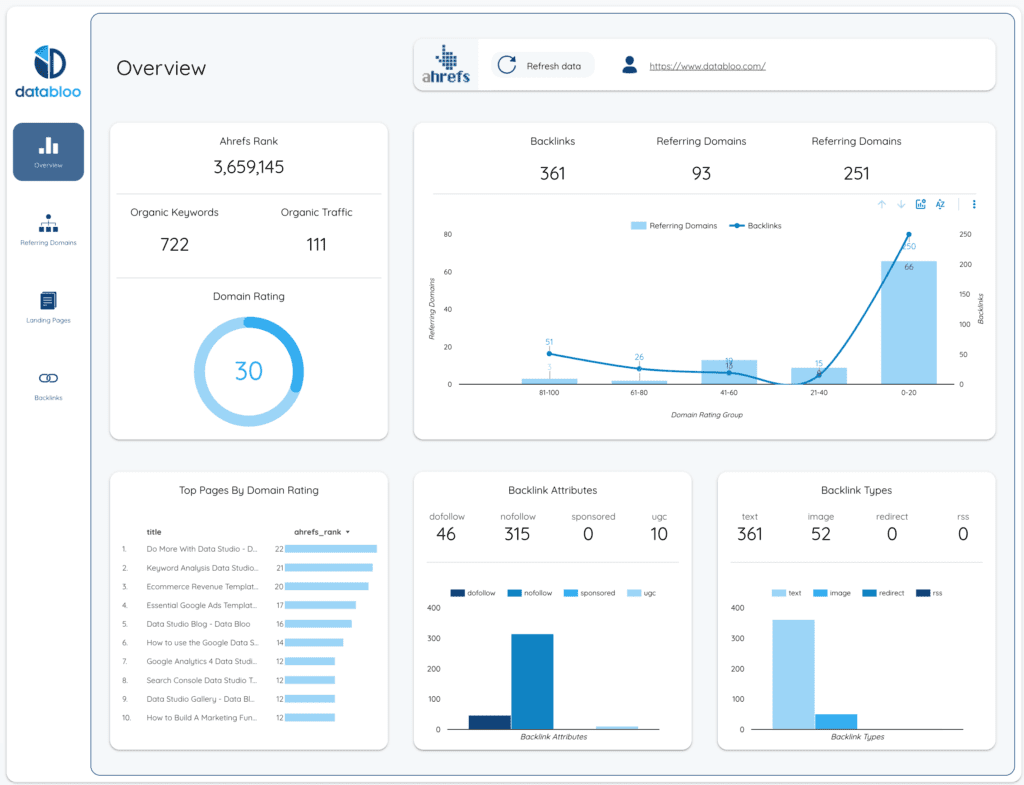 Conclusion
Monitoring your SEO metrics can be challenging. We hope that our collection could help you understand what are the top available SEO resources out there, so you can pick those that match better to your reporting needs. Have in mind, that you can use these dashboards to identify areas for improvement in your organic search strategy. In case you are looking for a bigger variety of reports, here you will find our list featuring the top Data Studio Templates in 2022. If you have any questions or feedback, please send us a message, we'd love to help!