Are you looking for Data Studio Reports for Agencies? You are in the right place. Modern agencies should differentiate themselves and improve client relationships with aesthetically pleasing reports rather that boring templates in Excel or Power Point.
Whether it's web analytics, PPC campaigns, Google Analytics Data, or a social media campaign, a marketing dashboard will allow you to track multiple marketing metrics in one place, letting your client understand at a glance how each strategy contributes to the final goal.

Focusing on KPIs
Some of the most important indicators, that agencies should consider for their prospecting dashboard, are:
acquisition metrics such as % of new users & volume of sessions in GA, keyword rankings for top terms in Search Console
behavioral metrics such as session duration and pages / events per session (engaged sessions for GA4) and even page load performance
conversional metrics such as goal completions & conversions, transactions and conversion rate.

Combining multiple sources

The success of a marketing strategy depends on being able to track your marketing analytics, see how all your channels are working together, and show your clients they're getting a good return on investment. You can use various data sources such as Google Analytics, Google Ads, Facebook Ads and Google Search Console in just one place.
Ecommerce Performance
By using an eCommerce dashboard, you will be able to track every stage of the sales process on any online business. You will easily identify what's selling (and what isn't) so your clients can act on their strategies accordingly and optimize their sales funnel. Understanding acquisition channels is critical in order to sustained growth and here's where the ecommerce revenue template comes in and presents you the revenue breakdown by channels and devices. Your clients will have everything in one place, along with a clear set of instructions for extra support.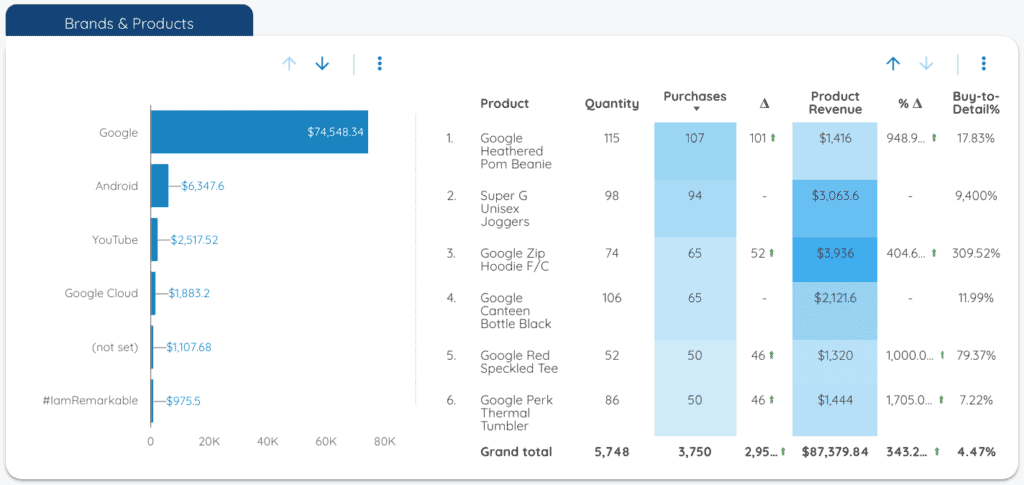 ---
Organic Search Presence
When it comes to SEO, your clients want to know how your agency has made them more visible, and how that has translated into traffic. Monitor your clients across a variety of metrics including search visibility, on-page SEO, and traffic from organic search, all in one convenient dashboard so that they can end up ranking up at the top. The Keyword Analysis Template will showcase the performance of your top 3, top 10, and 20 keywords on search engine results and break down the analysis in branded and generic search traffic that will help you find new content opportunities.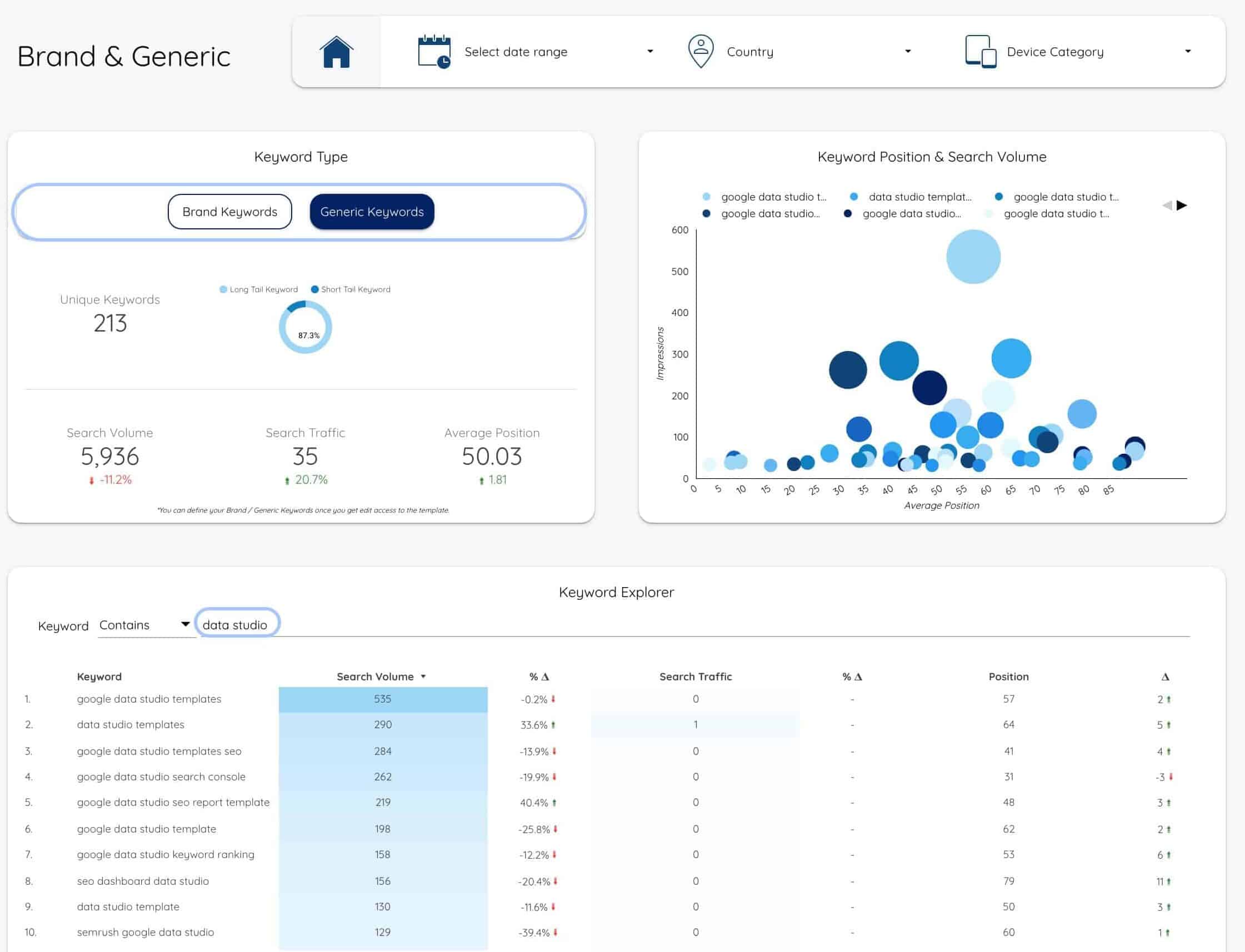 ---
Paid Search Activities
Additionally, as an agency that creates and manages Google Ads accounts, you need to focus also on a few key performance indicators (KPIs) that provide your client with the information they need in order to make good business decisions. That means you need to provide them with numbers like total leads, clicks, conversions, spend, etc. as well as the details needed to help them with budget decisions like moving spent from display to search ads or stop any poorly marketing effort. Providing detailed information to many clients can be a really time-consuming task. However, Digital Performance Master Template offers you a deep dive into ads performance as it helps you track the budget of your client account and measure their return on investment for both Google and Facebook Ads. Additionally it provides even action insights for the competition.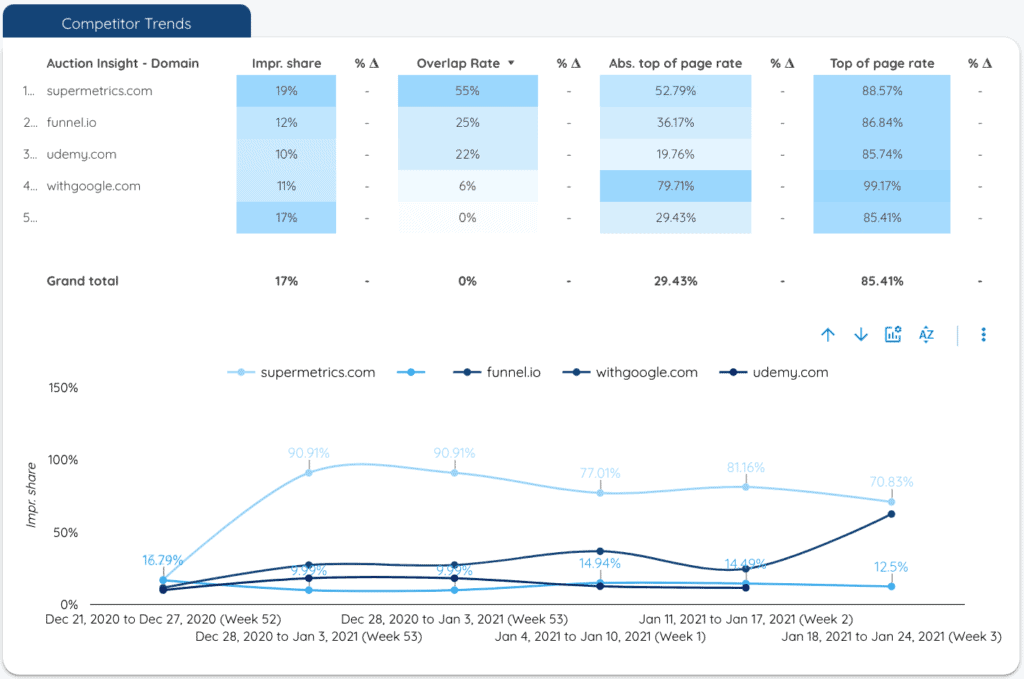 ---
All-in-one solution
Automated reporting is a useful way to inform everyone about opportunities to improve the numbers. Using dashboards will allow your agency to turn a pile of stats into an easy-to-digest report so that your clients can see how their campaigns are going, increase productivity and foster a culture of data transparency that can ultimately drive value across their firm. If you are not sure what dashboard better fit your needs, you can try one of our below templates.