Data collection is one of the most important factors in becoming a successful business.
If you're in search of a business intelligence (BI) and data visualization tool, you may have come across Google Looker Studio.
In this article, we'll give you an overview of Google Looker Studio pricing. Keep reading to see if this tool is right for your business needs and your budget!

What is the Cost of using Google Looker Studio?
Google Looker Studio (previously Data Studio) is a free platform that allows users to create interactive data visualizations. There is no cost to use the platform, and users can access a variety of templates and tutorials to get started. Recently Google announced the paid version of Looker Studio, named Looker Studio Pro. With this version, big companies and enterprises can use some extra features such as SLAs, enterprise capabilities, and technical support.
According to a recent announcement of Google, the Looker Studio Pro is generally available since December 1st 2022. However we reached out to Google Cloud Sales team, and they replied that "Unfortunately Looker Pro is not yet available and we don't have information on pricing or the features yet. Should be available sometime next year."
Apart from the platform itself, some users may need to purchase additional data sources or connectors to create their desired visualizations. For example, in case someone wants to connect social media data from Facebook, Twitter, Linked In, Tik Tok with Google Looker Studio, then he/she will have to pay a subscription fee to 3rd party platforms. Additionally, users who want to share their visualizations and transfer ownership with others with the same domain will need to purchase a Google Cloud account, which starts at $5 per month.
Overall, the cost of using Google Looker Studio depends on the individual user's needs and preferences.
The Three Business Tools in Google Looker Studio
Google Looker Studio is a versatile platform that helps you visualize your data and tell stories with your data. It offers three pricing categories:
Data connectors – Allow you to connect to different data sources, such as Google Analytics, AdWords, BigQuery, and Sheets.
Community visualizations – Custom Charts that are created by the Looker Studio community and are either free or premium.
Templates – Premade Looker Studio reports that you can use as a starting point for your reporting.
Google Looker Studio is a powerful tool that can help you make sense of your data and communicate your findings effectively.
Before starting with the cost, let's underline the three different cost categories associated with Google Looker Studio.
Google Looker Studio Price for Data Connectors
There are two types of Looker Studio connectors – organic and paid. Google has developed its native connectors for data sources such as:
Google Analytics
Google Ads
Google Search Console
YouTube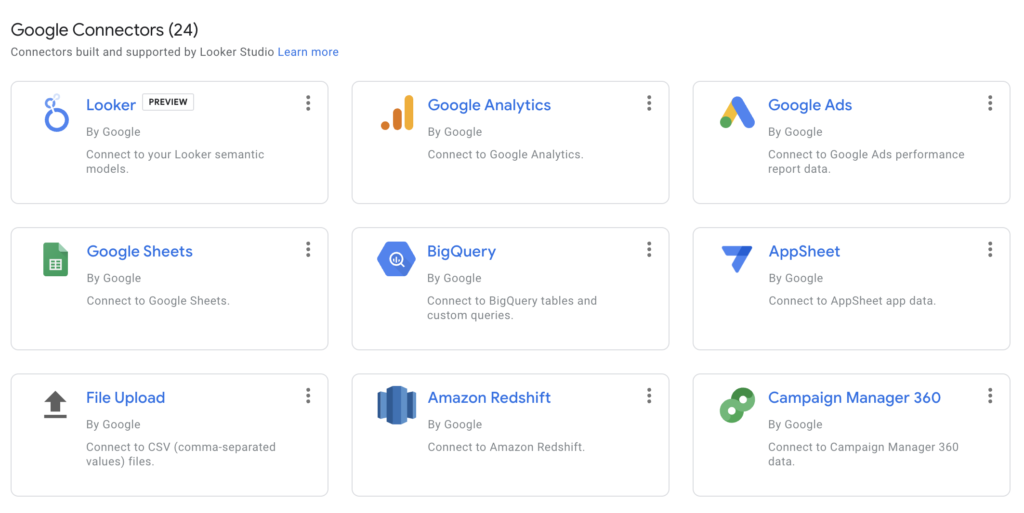 However, third-party connectors are also available for data sources such as Facebook, Bing, Linkedin, Tik Tok, and Twitter. These data sources have been developed by different companies (Google Partners):
Supermetrics
Power My Analytics
Tap Clicks
Funnel.io
Porter Metrics
Windsor.ai
Gladior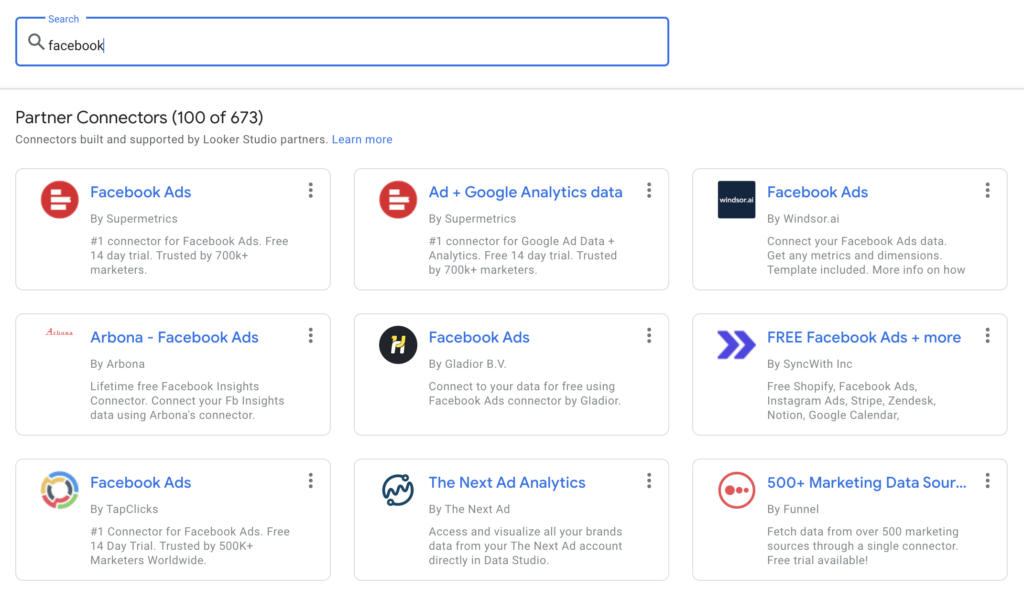 These companies have different pricing setups, of course. For example, Supermetrics starts at $39 per month when billed yearly, while TapClicks has a free plan and paid plans starting at $500 per month.
Each plan and package will have different advantages, so you must select the one that fits your needs the best. For instance:
Supermetrics has a core package that allows 10 accounts per data source (you get 24).
Porter Metrics' basic plan starts at $29 per month when billed annually and gives you access to 10 accounts per data source (with 50 data sources total).
Funnel.io's cheapest plan starts at $97 per month when billed annually, and gives you access to 10 accounts (with an unlimited number of data sources).
As you can see, each company has completely different pricing based on some criteria such as
Number of Data Sources (How many data sources do you want to connect with Looker Studio)
Type of Data Sources (What data sources are available for Looker Studio)
Number of Accounts (How many different accounts/websites do you want per data source)
Number of Users (How many users do you want to have access to the connectors).
There is no "one size fits all" solution, so it is important to select the plan that meets your specific needs.
Why Do Data Connectors Cost Money?
If you want to connect to Facebook Ads, the connector needs to be updated every time Facebook makes a change to its API. They will also need testing and verification by the data source. For example, if you want to connect to Salesforce, the connecter needs to be tested and verified.
Connectors also need hosting on a server. This is so users can access it from anywhere in the world. The hosting servers will also take care of backing up the connectors from time to time. This is so if something happens to the server, the users can still access the connectors.
The final reason is that the connectors need to be supported. This means that if there are any problems with the connector, there will be someone available to help you fix the problem.
Data connectors are an important part of Google Looker Studio. They allow you to connect to a variety of 800+ data sources and display the data in a way that is easy to understand. While there is a cost associated with them, the benefits they provide outweigh the cost.
If you need to connect to multiple non-Google data sources, then data connectors are a necessary part of the equation.
Google Looker Studio Price for Community Visualizations
Google Looker Studio is a powerful data visualization tool that offers a wide range of features at no cost. Community visualizations or custom charts, are created by members of the Looker Studio community and are available for free.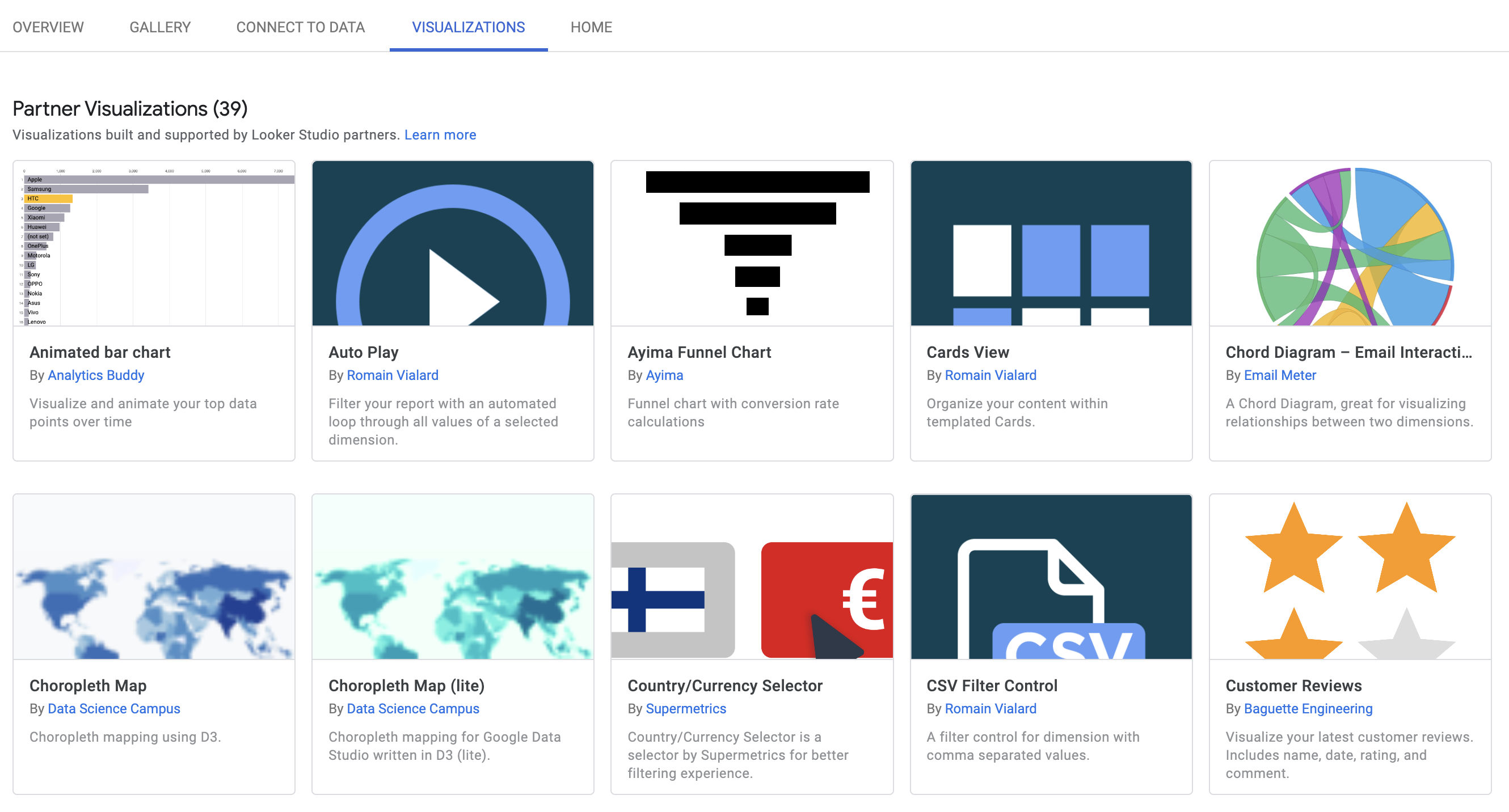 However, some community visualizations have limitations to their free version and they may require a paid subscription like Supermetrics Charts. These sophisticated charts are available to users who have a paid Looker Studio package (essential, core, super).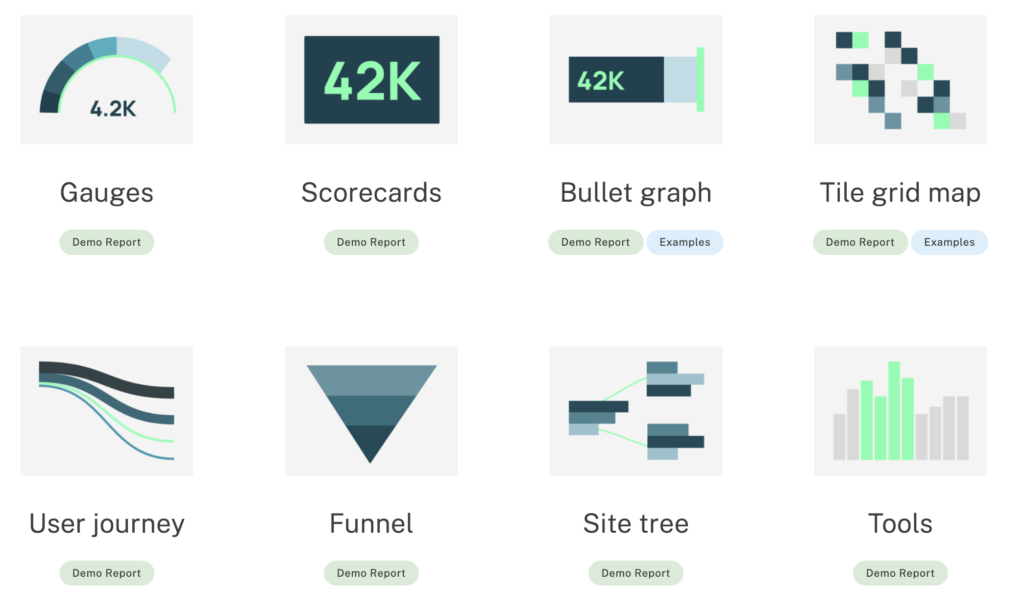 Google Looker Studio Cost for Templates
You can either create a report from scratch, or you can get a ready-to-use template to get started quickly. This will not only save you time but also allow you to tell great data stories to your internal and external stakeholders with user-friendly dashboards.
Google Looker Studio pricing varies depending on the specific template that you choose. The majority of the templates provide built-in data control, where you can use your data for a free trial.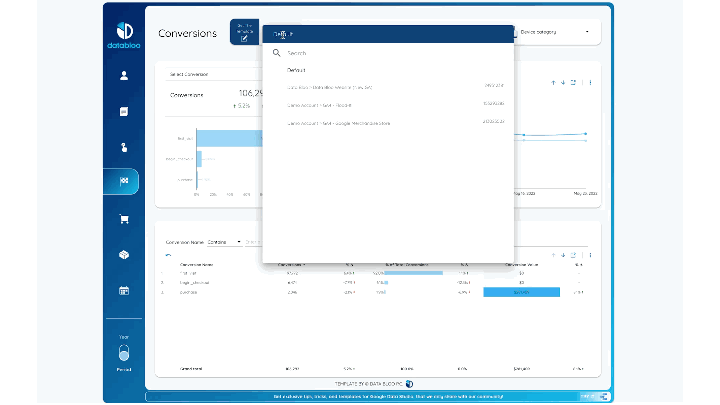 Data Bloo, the #1 contributor of the official Google Looker Studio Gallery, provides ready-to-use dashboards that start at $29 and go up to $99 for one data source. If you need more sources, you can purchase a master template (a bundle that includes two or more data sources) which starts at $299.
There is also a custom option available for businesses that need a more comprehensive solution. The custom dashboards start at $500. In case you are interested, you can send us a message.
Google Looker Studio is a powerful tool that can help businesses to better visualize their data. With so many different pricing options available, there is sure to be a solution that fits your needs.
Business Intelligence With Google Looker Studio Price: Start Today
Google Looker is a powerful business intelligence tool that can help you make better decisions, faster. With Looker, you can easily create custom reports and dashboards to visualize your data in any way you want.
The best part? The Google Looker Studio price is highly affordable. If you're looking for an easy-to-use BI tool that won't break the bank, Looker is worth checking out.
Are you looking for templates? Check out our products!