At the Cloud Next 2022 conference, Google announced the launch of the Looker Studio, a combination of the backend power of Looker with the easy-to-use interface of Data Studio. By unifying these two platforms, Google provides a really powerful business intelligence tool that could help companies tell great stories with Google Looker Studio templates.
Looker Studio 🚀 = Looker ⚙️ + Data Studio 📊​
Here you can check the new product in 60 seconds as shown on the official demo of Google.
Key Features of Looker Studio
Some important elements of the new BI platform are:
the available data sources, that users can take advantage of the wide variety of 800 sources.
the user-friendly builder (drag-and-drop), with which users can utilize charts and graphs in order to create compelling data reports.
the report embedding, which gives users the functionality to share the Looker Studio reports with others or even embed them in any web page environment.
the Looker Studio API, with which enterprises can automate the management of their assets. [NEW]
the introduction of Looker Studio Pro, an enterprise version, empowers companies with management features including group workspaces, and service-level agreements. [NEW]

Top Google Looker Studio Templates
One of the key features of Looker Studio is the Report Library, as the users can choose from a wide variety of ready-to-use templates and visualize their data fast and without any extra effort. Having designed the most featured reports in the official gallery, we compiled a list with the top Google Looker Studio templates that anyone can use right now in order to take advantage of this new powerful tool.
Source: Google Analytics 4
Google Analytics 4 Audit is a free Google Looker Studio template that could help you improve the quality and accuracy of your GA4 data. By using this automated tool, you can get actionable insights for potential configuration issues of your Google Analytics 4 account. You simply select your GA4 property from the data control and the audit is complete within a few seconds. It saves a lot of time and effort, especially for those who are working on the migration to GA4.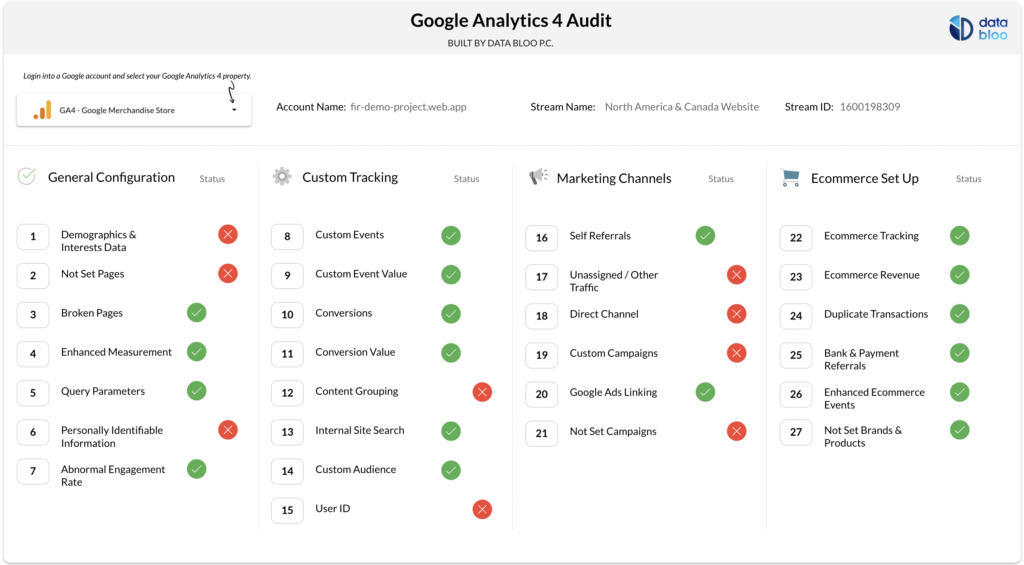 Source: Google Analytics 4 via BigQuery
Analytics4now is a powerful report that combines the standard reporting views of Universal Analytics with the new GA4 data. It is built on Looker Studio, using BigQuery as the main connector in order to tackle any issues with the GA4 API quotas. By linking your GA4 property with BigQuery and using Analytics4now's advanced reporting features, you can easily process your GA4 raw data in a faster and more granular way. This means you can save time and simplify your analytics, making better decisions about your business. With Analytics4now, you can automate your GA4 reporting in less than a minute and get the most out of GA4 and UA.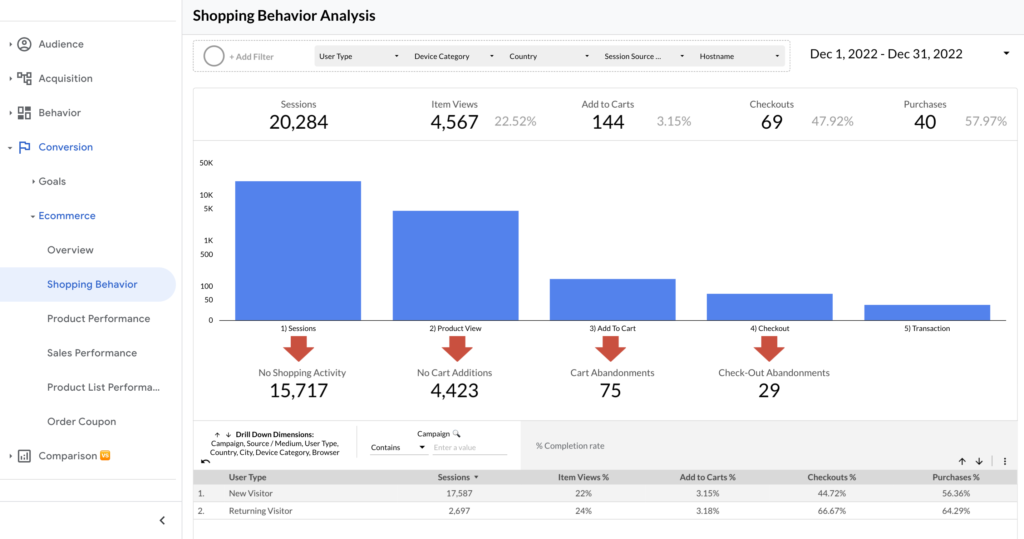 Source: Google Analytics 4
The GA4 Looker Studio report uses Google Analytics 4 as a data source to monitor the overall performance of your website with the new version of GA. This user-level dashboard monitors your e-commerce activity along with the top-selling products, your users' interactions, and the top behavior events. By using this template, you can easily move to your GA4 without stress and have a pretty straightforward overview of your business in seconds.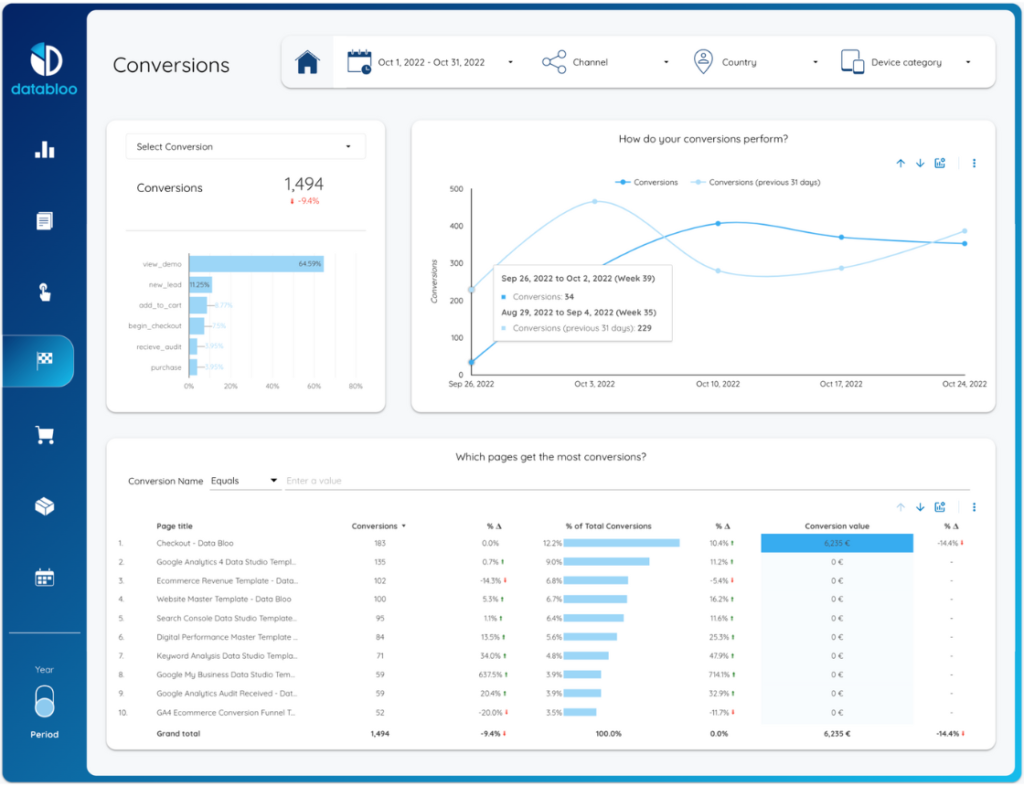 Source: Google Analytics 4
The GA4 Ecommerce Conversion Funnel Template monitors your website's e-commerce funnel using GA4 data. It allows you to track your customers' behavior across devices, channels, and products, and identify where they drop during the buying process. With this template, you can analyze data for all the steps of Enhanced Ecommerce, from product view to transaction. The navigation menu on the left side allows you to check out different sections such as Funnel Overview, Technology, Channels, Demographics, Ecommerce, and Time, providing you with in-depth insights into your website's performance in seconds.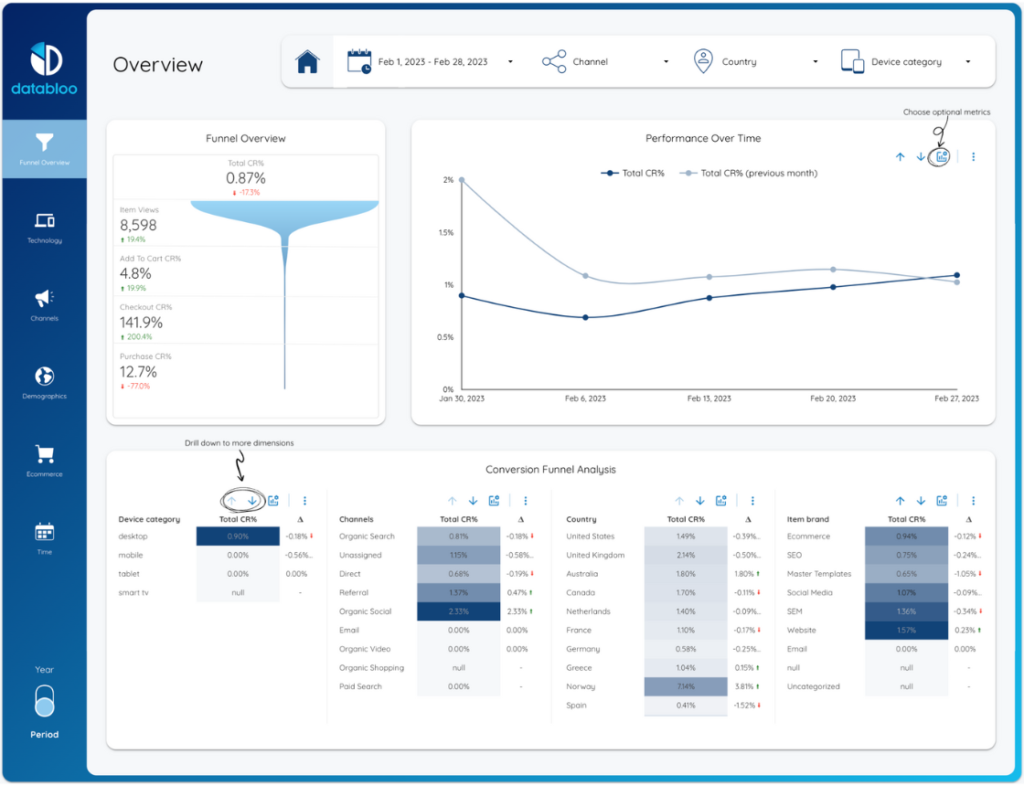 If you haven't decided yet which of these templates suit better your reporting needs, take a look at our Google Looker Studio Templates. You can find dashboards based on the data source, the company type, and your role.
Source: Google Analytics (UA, GA4), Google Ads, Google Search Console, Facebook Ads (via Google Sheets)
This is a 47-page Google Looker Studio template tailored for online businesses, covering the following areas: website overview, e-commerce activity, and organic/paid marketing. You can analyze the overall performance of your business by combining data from GA, Search Console, and Google & Facebook Ads. Apart from these powerful data sources, this dashboard provides great UX navigation, with a toggle between the YoY and PoP comparison, drill-down menus, and optional metrics, that allow you to deep dive even further into the KPIs that matter to your business.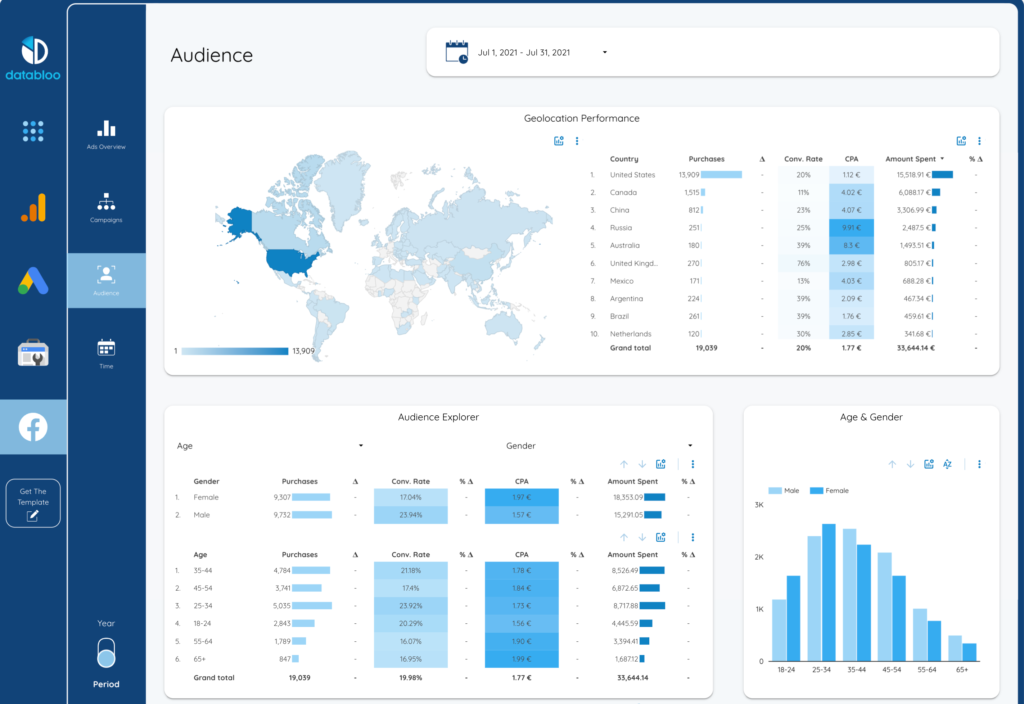 Source: Google Search Console
This Google Looker Studio Template uses Search Console for the overall performance of your organic search keywords on Google. The report provides a holistic view at a keyword level, including keyword distribution (Top 3, Top 10, Top 20, and rest) and brand vs non-brand breakdown. Additionally, you can spot patterns with the most searched / trending keywords and identify the top landing pages of your business that are related to those queries.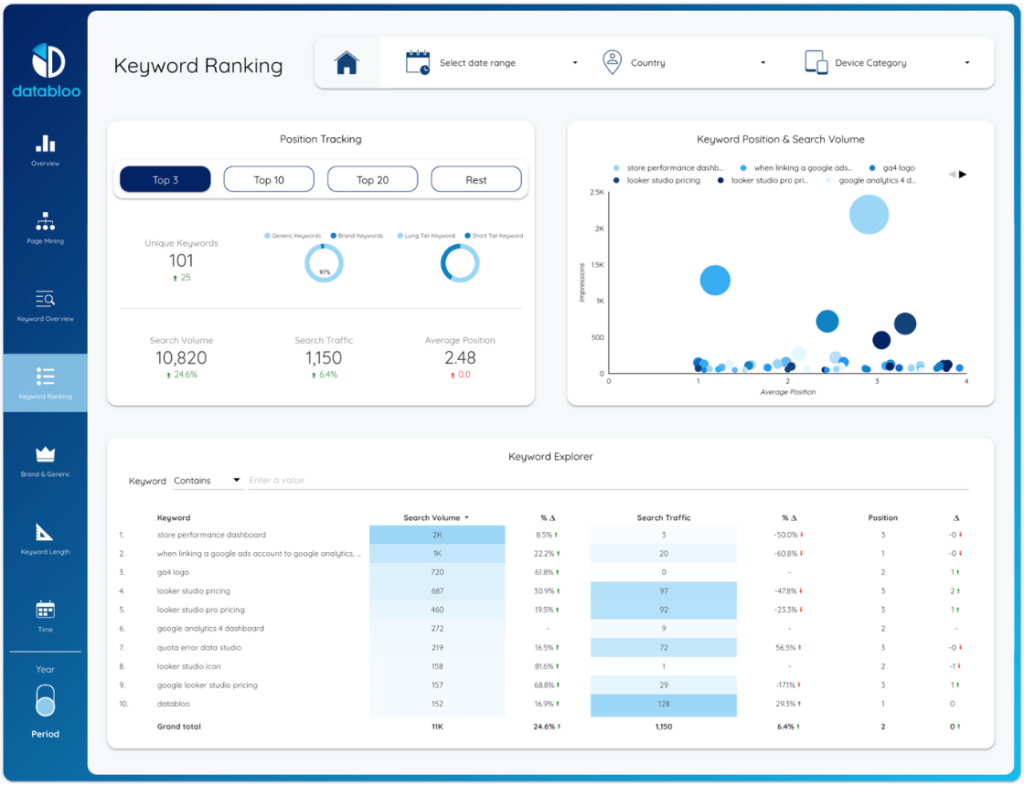 Source: Google Ads
This Google Ads Looker Studio template displays the main key performance indicators of your paid search activity. It summarizes your ads performance on Google split by campaign type, keyword quality, location, audience, and competition. By using this 10-page report you can decrease your cost of sales and monitor closely the total spending of your accounts.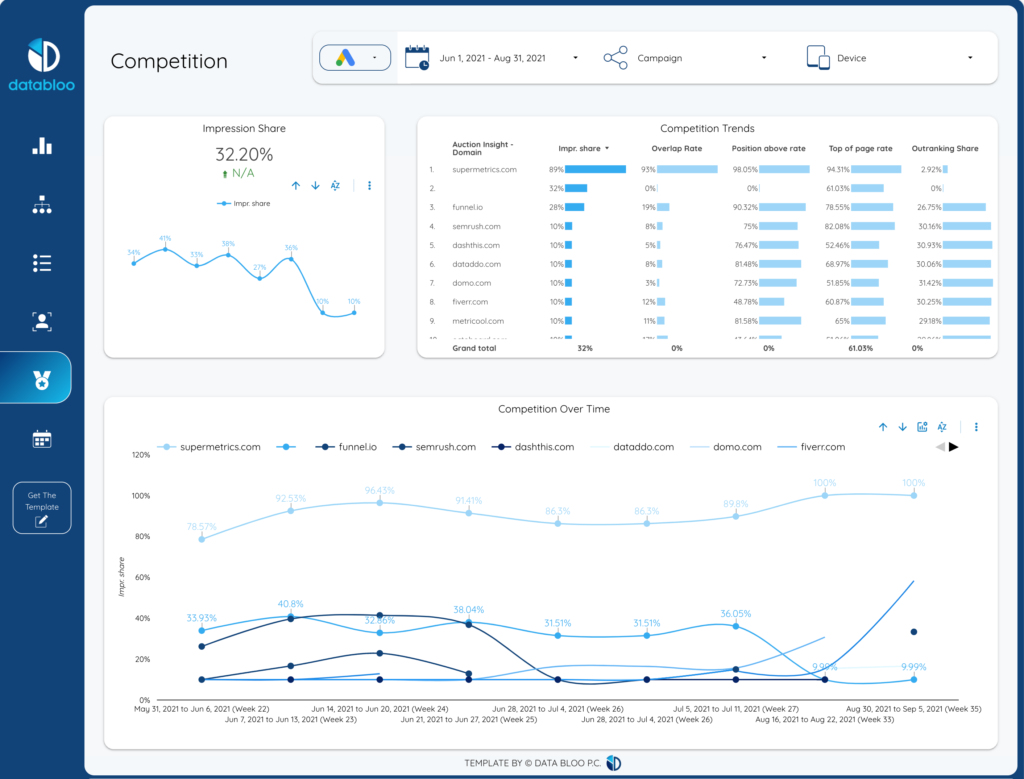 Source: Facebook Ads
The Facebook Ads Looker Studio template showcases the performance of your paid activities across Meta platforms (Facebook, Instagram, and Messenger). You can efficiently track the main KPIs of your Facebook Ads campaigns, split by ads visibility, conversion, acquisition, and cost. Additionally, you can pull actionable insights about the behavior of your audience (location, demographics) and spot performance trends over time. The most important part of this report is that it does not require any paid subscription, as it uses Google Spreadsheets to access the Facebook Ads data.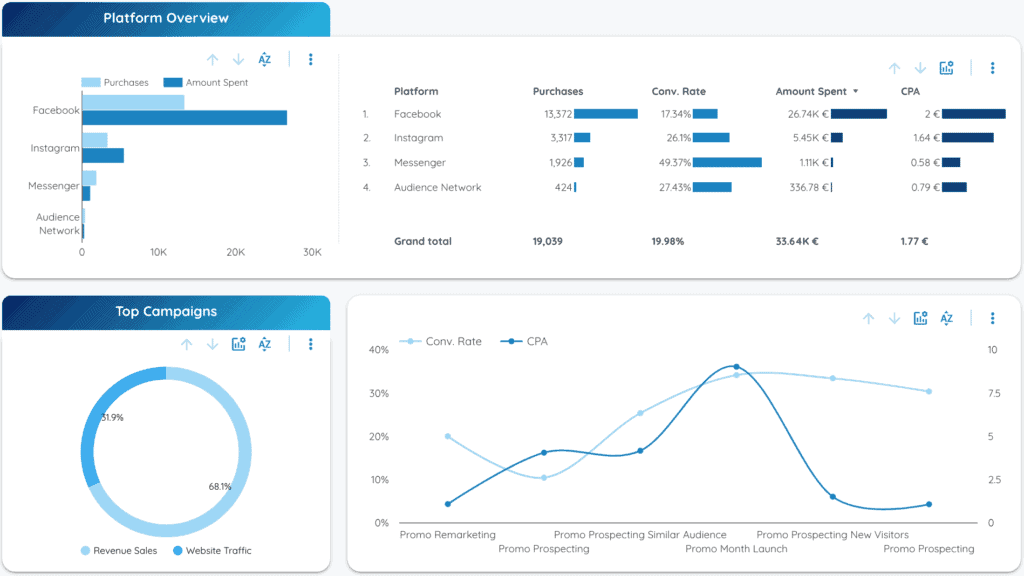 Source: Google My Business
With the Google My Business Looker Studio Template, you can monitor your local business listing and pull valuable insights into your organic growth and local search ranking. It provides a high-level view of your business on Google search & maps and showcases the GMB performance with your customers' interactions, engagements, reviews, and actions. The report uses a free data connector and doesn't require subscription fees to access your Google My Business data.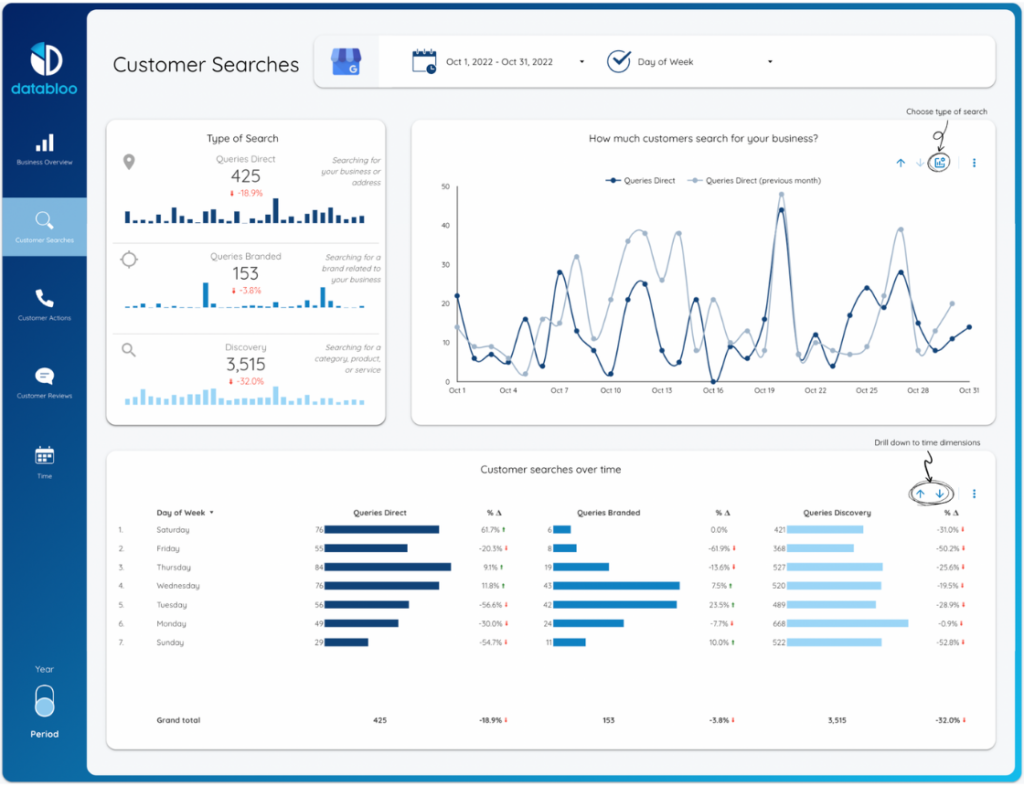 Source: Instagram Insights
The Instagram Insights Data Studio Template is a powerful report that can help you monitor and analyze the overall performance of your social presence. You can easily connect your Instagram account with this template and gain valuable insights into your business growth, followers' actions, media engagement, and performance over time. Unlock the full potential of your Instagram analytics and expand your social business.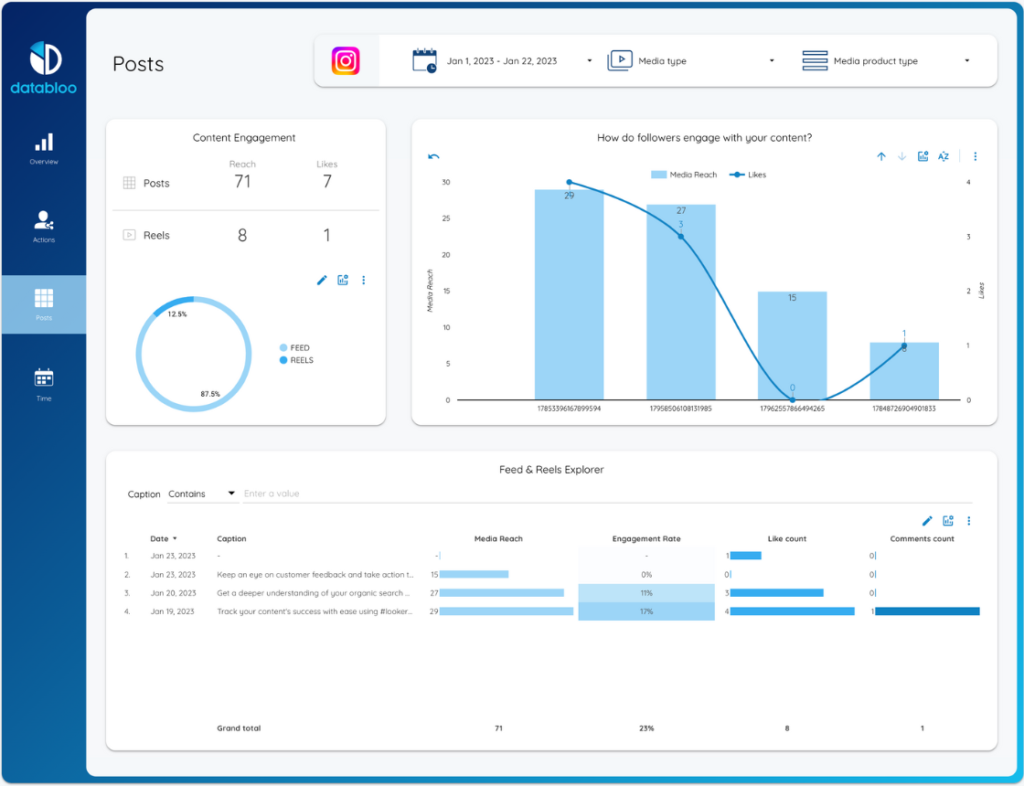 Need Some Help?
Our Looker Studio Templates can help you speed up your reporting process and improve your decision-making immediately. It is incredibly easy to build your reports without having to manually configure them from the ground up.
In case you're looking for a custom Looker Studio Template that is tailored to your reporting needs but don't want to spend your time building it from scratch, then feel free to send a message to our team. Tell us your business needs, and let us design the custom report for you.